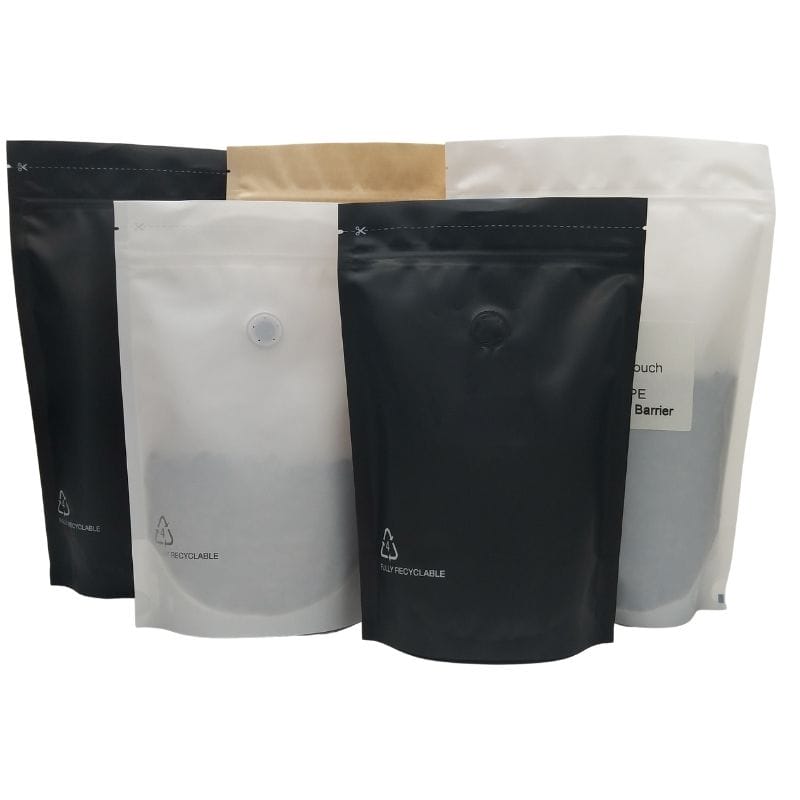 Mono PE Recyclable Pouch
Custom-Made Designs, Size, Add-ons |

MOQ 1,000pcs
Mono PE recyclable pouches are made of monoethylene glycol, which is the most desirable material to create this type of product. The Mono Pouch is FDA certified, BPA-free, and made with recyclable materials.
It is also durable and can be reused before needing to be disposed of, which makes it much more sustainable than paper bags or plastic bags.
One of the biggest issues nowadays is plastic pollution and how to reduce it. Plastic can take hundreds or thousands of years to degrade and as such poses a real danger to the environment as well as human health.
This is why Mono PE Recyclable Pouches help by providing one with an easy recycling process that leaves no traces in one's environment.
Food grade high barrier materials
It is one of the most used materials in the world and yet it is mostly unregulated. In many remote parts of Africa, Asia and South America, plastic is a valuable resource – recycled to provide water storage tanks and fuel bottles – but in developed countries it has been thrown into landfills for decades.
Free recyclable pouch samples for quality reference
100% brand now raw materials, no recycled materials
What Is PE Recyclable Pouch?
A PE recyclable pouch is an eco-friendly alternative to plastic bags. These pouches are made of polyethylene, which is a non-toxic and recyclable material. Pouches also come in various shapes and sizes making it easy for the users to carry the load.
Apart from being eco-friendly, these pouches are also personalized because they can be printed with company information or even photos on the front side. Also, they are much more convenient than plastic sacks or bags because they can hold more than 1kg of weight without breaking apart. These trays are lightweight and easy to fold so you can conveniently take them anywhere!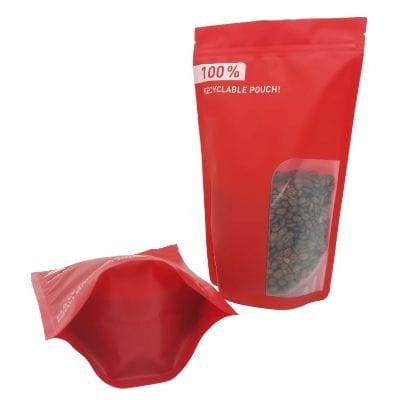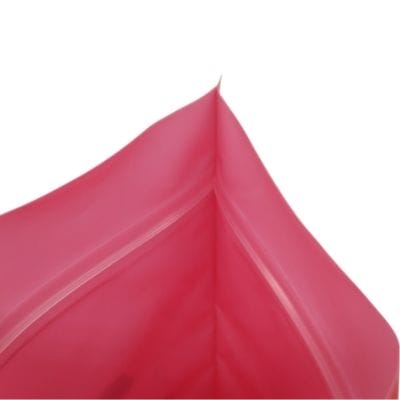 Inside View of Recyclable Pouch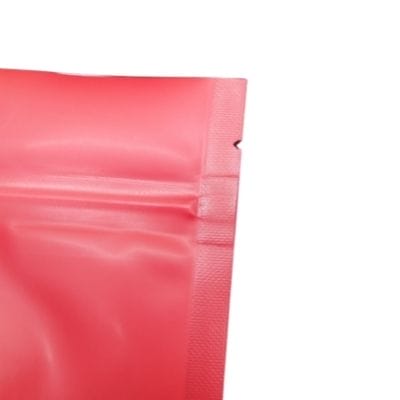 Top Corner of Recyclable Pouch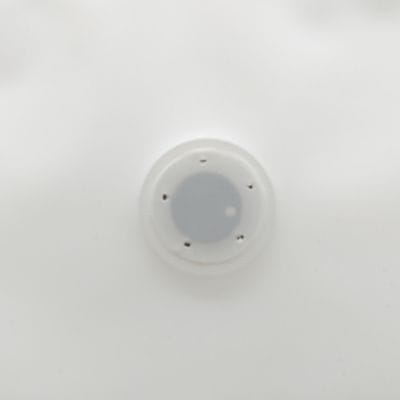 Why Should We Use PE Recyclable Pouch
Recycling is an important part of our world today. The United States Environmental Protection Agency (EPA) claims that every year Americans recycle enough to fill the Empire State Building twice over. Recycled materials are not just good for the environment, they are also cost-effective for businesses.
This is why more companies are adopting recycling practices and exploring innovative ways to incorporate recycling into their plans, including recycling stand up pouches at their packaging plant or warehouse.
People are becoming more conscious of how their food is packaged. Recyclable stand up pouches are an alternative to plastic containers for food, cereal boxes, and yogurt cups.
Reusable stand up pouches can be used in so many different settings- from schools to grocery stores. They are an environmentally friendly alternative to other packaging options because they can be reused over and over before it has to be disposed of.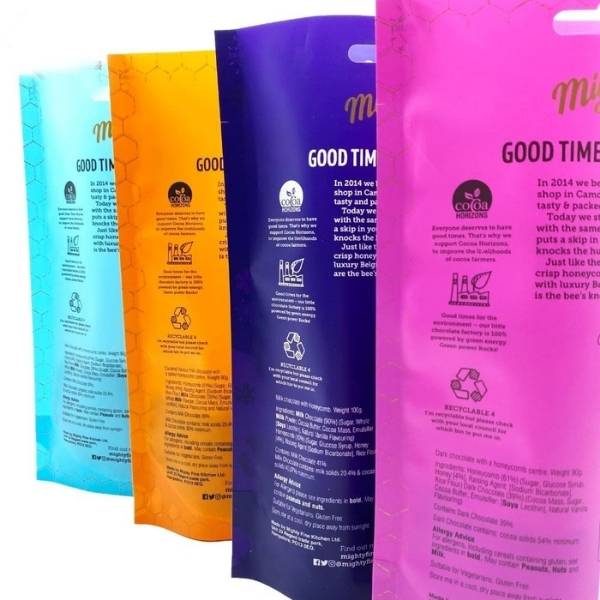 Recyclable Pouch In Various Pouch Types
The PE recyclable pouch is a fully custom-designed flexible packaging for foods and non-food categories. You may customized the pouch on pouch type, dimensions, printing, and add-ons.
As one of the best recyclable pouch suppliers in China, Ouma Flex Pack has been focused on this new products for 5 years. We have now got rich experiences on desinging and production of Mono PE Recyclable pouch.
Follows are the most popular recyclable pouch types. Please just come to us for any of your custom requests.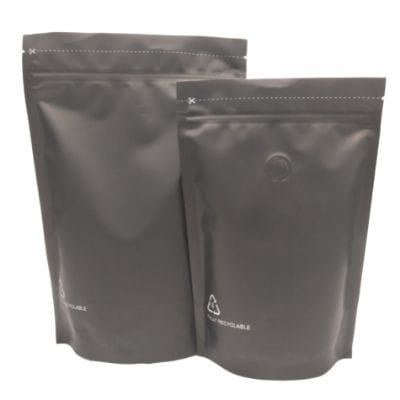 Recyclable Pouch With Bottom Gusset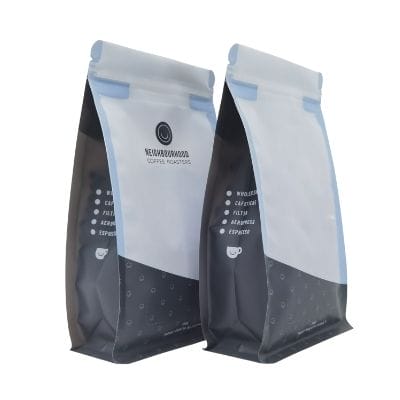 Flat Bottom Recyclable Pouch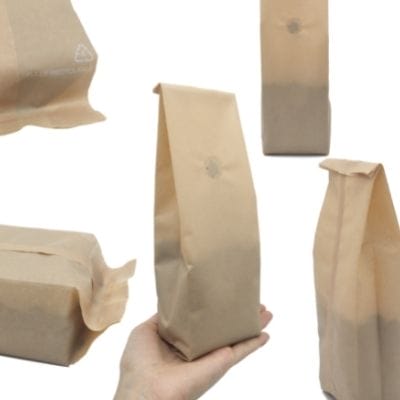 Recyclable Pouch With Side Gusset
Worry About Having Disqualified Pouch, Like Water Leakage or Poor Welding?
Our Solution: Triple-100% Quality Control Process
It's really a headache if to get the pouch with defectives. It's not realistic to come to China and conduct an inspection for each order. How to solve such problems and risks?
Our first priority is to offer qualified products 100% upto requirement. To achieve the goal, we set up a Triple-100%-Quality-Control-Process. With it, we have been offering fully qualified pouches and bags to the global market.
Size Chart For Recyclable Pouch (Bottom Gusset Type)

Fully Customization
All stand up pouches are fully custom-made, including the features of sizes, shapes, colors, printing, etc. The follow size chart is only for reference, not standard.
Different products may go with different size, even they are of same weight.
| Volume (gram) | Volume (oz) | Width (mm) | Width (inch) | Length (mm) | Length (inch) | Gusset (mm) | Gusset (inch) |
| --- | --- | --- | --- | --- | --- | --- | --- |
| 28 | 1 | 80 | 3.15 | 130 | 5.11 | 40 | 1.60 |
| 70 | 2 | 110 | 4.35 | 160 | 6.30 | 60 | 2.35 |
| 100 | 3 | 120 | 4.75 | 200 | 7.90 | 60 | 2.35 |
| 150 | 4 | 130 | 5.10 | 210 | 8.25 | 60 | 2.35 |
| 250 | 8 | 160 | 6.30 | 230 | 9.05 | 70 | 2.75 |
| 500 | 16 | 190 | 7.50 | 265 | 10.20 | 90 | 3.55 |
| 1000 | 32 | 240 | 9.25 | 335 | 13.20 | 100 | 4.00 |
| 3000 | 106 | 300 | 11.8 | 500 | 17.90 | 70 | 2.75 |
| 4000 | 141 | 380 | 14.9 | 550 | 21.60 | 80 | 3.15 |
Part 1: Recyclable Pouch FAQ Guide
Q: What is a Recyclable Pouch?
A Stand-Up Pouch is an eco-friendly, easy to use alternative to traditional packaging. This innovative product is made of flexible material and can be folded flat when empty. The package can be opened like an accordion to give the package its standing shape.
All pouch components are made from PE, which makes this pouch widely recyclable under code 4 – LDPE. It's certified that such a pouch having an outstanding recyclability rate of 96%.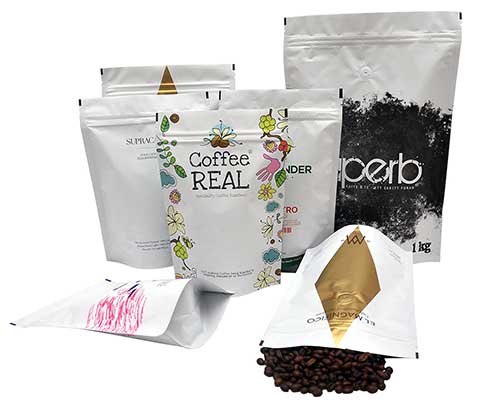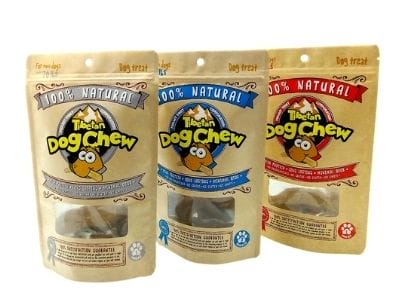 Q: Are Flexible Pouches Recyclable?
While flexible packaging does come with some environmental drawbacks, it's still better than many other types of packaging. It also helps to keep products fresh and can be made from recyclable materials.
Q: Are stand up pouches recyclable?
Recycling means, used poly pouch can be placed into a bin with other plastics and will usually have a recycle code of 4. When the pouches are recycled, they are ground up and used along with other plastics to make plastic benches or various other products.
Recyclable stand up pouch is one of our main proudct. It's made of mono materias: PE. It will normally be 2 layers. It has all the same features and functions as the regular pouches.
Q: How many colors are available for recyclable pouches flexographic printing?
Ouma flex pack is running the most updated printing machine workshop. We offer max 8 colors for recyclable pouch packaging design printing. We go with both CMYK and Pantone color system, offering the best solutions according to custom printing demands.
Q: What are the Key Benefits of PE/PE Recyclable Pouches?
1. PE/PE is 100% recyclable due to mono material structure
2. Available for pouch sizes up to 20Kg
3. Available with 100% gloss finish or 100% matt finish
4. Sustainable Packaging
5. Because of the mono material structure, PE/PE recyclable bags and stand-up pouches can be recycled after use.
Q: Are Free samples of recyclable pouches available?
Yes, Ouma Flex Pack will offer Free samples to the customers, for quality reference, total free of charge. The pouch types available include recyclable bottom gusset, side gusset recyclable pouch, and flat bottom recyclable pouch.
Q: Are Aluminum Foil Pouches Recyclable?
Aluminum packaging pouches are Not Recyclable.
They're made up of many layers of materials that were laminated together, including polyester, mellant, Mylar and paperboard. When fused together these materials can be quite difficult to separate without ruining the product
Q: What does #4 mean in recycling?
A 4 inside a triangle typically means that it is LDPE. This type of plastic is used in various items with different purposes such as shopping bags, squeezable bottles, carpets, furniture and clothing.
Q: What is the MOQ for recyclable pouch?
For recyclable or biodegradable stand up pouch, the MOQ is 20,000 pcs -50,000 pcs per SKU (same size, same printing).
Q: How long does it take for the cargo production? What's the payment terms?
The lead time will vary due to the sale seasons. It's about 15-25 working days. For urgent cases, please just contact us for special support.
We accept the payment methods by T/T, Western Union, L/C. The payment terms in most cases is 40-50% down payment, balance before cargo delivery.
Q: How long does it take for the cargo production? What's the payment terms?
The lead time will vary due to the sale seasons. It's about 15-25 working days. For urgent cases, please just contact us for special support.
We accept the payment methods by T/T, Western Union, L/C. The payment terms in most cases is 40-50% down payment, balance before cargo delivery.
Q: Do You Offer Free Pouch Design Service?
Yes, Ouma Flex Pack offer free design service for the clients who are going to buy any of our pouch.
Q: What Recycling Number Cannot be recycled?
According to environmental research, plastics with 1 and 2 labels can be recycled at most recycling centers, but plastics with 3, 6 and 7 cannot. These typically end up in the trash.
Q: Are Kraft Pouches Recyclable?
Kraft Paper bags (without plastic inner lamination) are 100% recyclable. After paper bags are used, make sure to put it them the recycling bin! It's a great alternative to the traditional plastic bags that don't recycle or biodegrade.
Part 2: Definition of Recyclable Pouch
Recyclable pouches are small bags with a zip closure that are made of recyclable materials. They are used for storing small items like food, cosmetics or electronic accessories.
Recyclable pouches are one of the most sustainable and eco-friendly packaging option for products that need to be protected from moisture or that require a barrier from other products.
The recyclable pouches are made from PE/PE – means they're made from Linear Polyethylene and do not have a foil lining. This makes them 100% recyclable.
This type of packaging has been used in food packaging before but only on a small scale due to cost constraints. This new design makes it possible for manufacturers to create these pouches at much lower costs.
We feel a strong sense of responsibility for our environment – which is why we have been investing in our recycling and recovery technologies. Check out our range of recyclable standup pouch options, all of which will help you save the world from waste!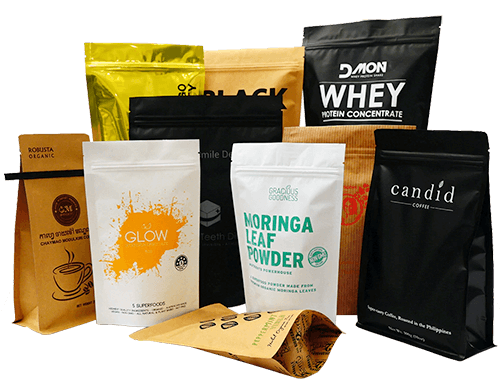 Part 3: Applications of Recyclable Pouch
The recyclable pouch is a new type of food packaging. In recent years, there have been significant advancements in the design, manufacture and materials used to make these types of pouches. The use of recyclable pouches is a low-cost and environmentally sound way to package a wide range of products including coffee, tea, nuts, snacks and pet food.
The use of this type of pouch has been rapidly growing in recent years due to its many advantages over traditional packaging options such as plastic bags or cans. These pouches are less expensive than other types because they are lightweight and can be manufactured on a smaller scale than cans or bottles. In addition, these packaging options are easy to transport especially on water since they do not take up additional space in the boat or ship.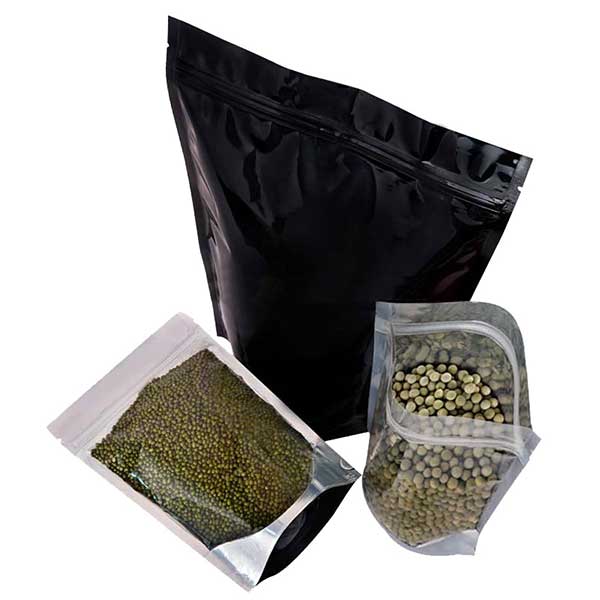 Main Markets of Recyclable Pouches
Roasted Coffee Beans & Ground Coffee
Coffee is one of the most popular beverage. Recyclable pouches have become the standard packaging for coffee products recent years.
Coffee recyclable pouches are fully custom-designed in sizes, printing, pouch types, features. You can use it for different volumes and flavors. You may have special pouch shapes and sizes for each product. You can even apply custom-made photographic printing for each promotion campaign.
Snack And Other Solid Food Packaging
Premade recyclable pouches are one of the most popular coffee packaging all over the world. The fully-custom feature makes it an eye-catching products among the products on the supermarket shelves.
Sustainable packaging materials become worldwide demands, including snack industry. Fortunately, sustainable materials are no longer hard to get, and expensive to buy. Recyclable packaging is becoming the standard for most food brands.
Regular accessories like ziplock, valves, hanging holes, custom design printing, are available for all our recyclable snack packaging pouches.
Pet Food & Pet Care Products
There are many benefits of using recyclable pet food pouches. For one, they help save on resources and also reduce environmental pollution.
These days health is more important than ever before and this is why many people prefer to use recyclable pet food pouches instead of plastic bags or cans.
There are numerous pet care products that come in recyclable pouches, such as cat litter, dog food, treats for dogs and cats, bird food etc.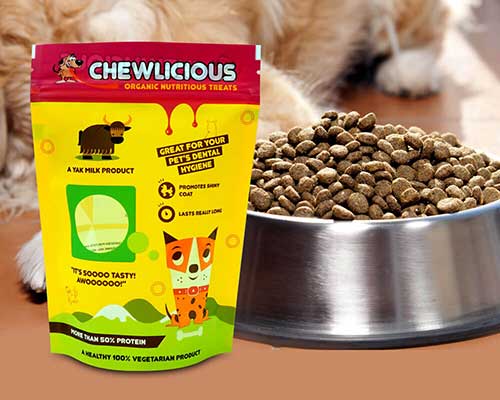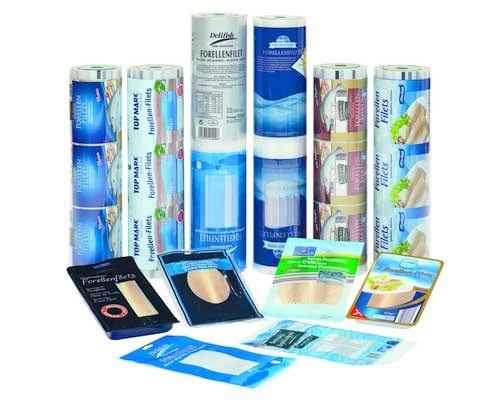 Industrial & Non-Food Packagings
Non food recyclable pouch is the most common packaging for industrial products. These pouches are made of PE, which can be recycled.
As more and more people are recycling these pouches, they need to make sure not to recycle them with food items in the same recycling bin. If they do, it will contaminate the rest of the recyclables and make it not recyclable anymore.
Flavoring / Seasonings Packaging: Sugar, Spice, Sauce
Flavoring is necessary for food to taste good. One of the most efficient ways of flavoring food is using packaged seasonings, which are available in various flavors. These seasonings are usually packaged in recyclable pouches that can be used for multiple times. The question that arises then is, what happens to these pouches after use?
After use, these pouches are not thrown away but instead recycled and reused for another purpose. The idea behind this recycling system is to keep the environment clean by reducing the amount of packaged seasoning required.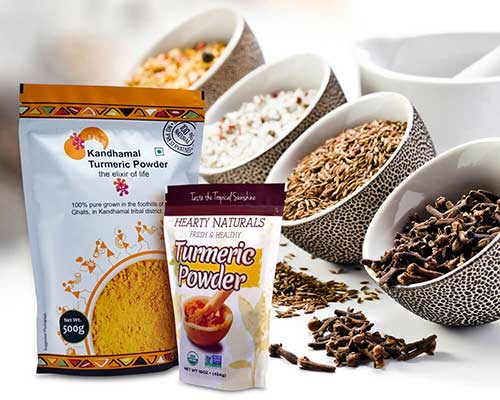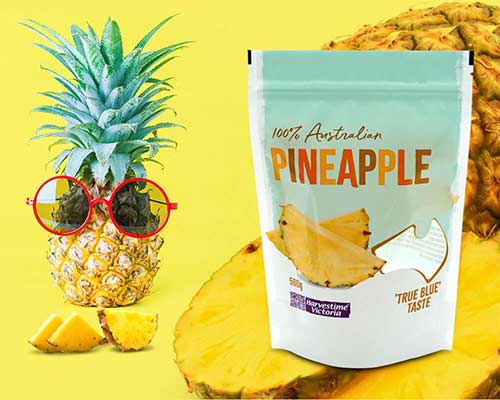 Dried food: Dried Fruits, Nuts
Dried food packaging is the key to extending the shelf life of dried food. It protects the food from moisture, heat, and light.
Dried food packaging is not only used for long term preservation but also for easy transportation. It can be carried on a hike without any fear of leakage or spoilage.
Pouches are durable and flexible in their ability to store dried foods like nuts and fruits at home or in the office with ease. They can be reused for up to ten times before recycling
Part 4: Recyclable Pouch Accessories
To meet different packaging demands, different features and functions, as the professional recyclable pouch supplier, it's important and necessary to offer custom-designed recyclable pouches to different clients.
Various accessories will be applied to Ouma recyclable pouches, which will bring many extra functions. It will make it easier for customers and retailers when opening, packing, resealing.
It's totally customized to use various add-ons for your bespoke recyclable pouch. Or just reach us with the full detail request. As the recyclable pouch manufacturer, we will offer you the best solutions, based on your market demands.
4.1: One-Way Degassing Valves for Recyclable Pouch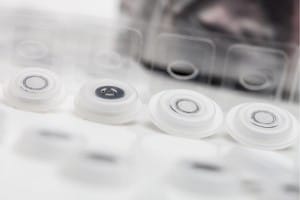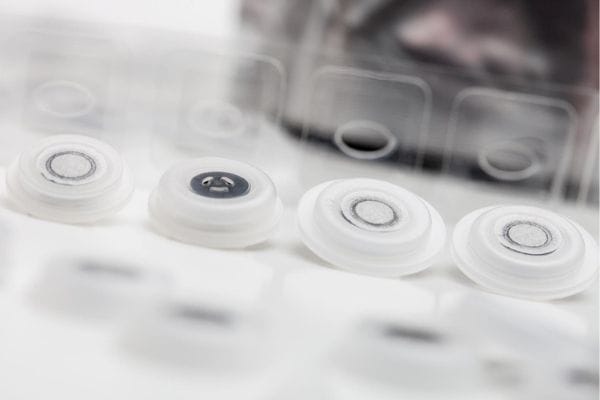 The one-way degassing valve, invented and developed by Goglio, has become very important to the food packaging, especially coffee.
The valve raw materials is approved by European authorities, the FDA and the Japanese Ministry of Health. But it's now utilized widely by other markets. One-way degassing valve allows carbon dioxide to escape from a package without allowing oxygen or moisture in.
A resealable ziplock for recyclable pouch is a useful and practical solution to the common problem of opening and closing a recyclable pouch.
The seal on the pouch has been the toughest part to tackle, until now. A resealable ziplock can solve this problem and help you keep your food fresh and safe from bacteria.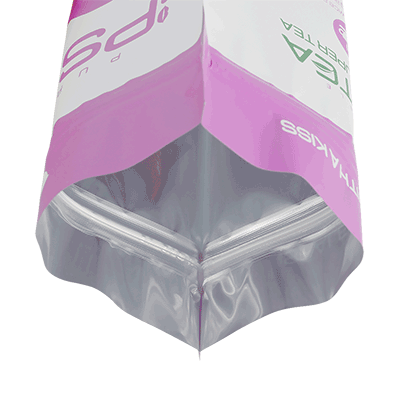 Hanging on the upright display wall is another way of displaying your products on the supermarket, besides standing up on the shelf.
To meet different demands, as the real recyclable pouch supplier, we offer 3 different hanging holes: Butterfly (also called Euro) hole / Triangle hole / Round hole. These holes will be done by punching tooling. The sizes of holes are customized as you need.
The die-cut hand grip for recyclable pouch is not only functional, but also beautifully designed.
The die-cut hand grip for recyclable pouches are made from high quality recyclable materials. The grips are then placed on the edges of the pouch to make it easier for people to carry. The grips are aesthetically pleasing and come in different colors, patterns, and shapes depending on your preferences.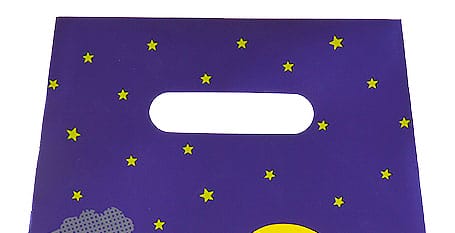 4.5: Ergonomic Handle Grip
The ergonomic handle grip is a design that improves the recyclable pouch. The handle grip can provide a more comfortable and safe experience while carrying the recyclable pouch.
One of the most common complaints people have about carrying a recyclable pouch is that it is difficult to hold. If you add an ergonomic handle grip, it can make carrying the recyclable jar much easier and more comfortable.
4.6: Recyclable Pouch Rounded Corners
A recyclable pouch can be called as one of the best inventions in the modern world. It helps to reduce the impact of plastic on our environment after it is thrown away.
With a rounder corner, there is less of a chance that something will get stuck in the corner and create an opening that can lead to spilling.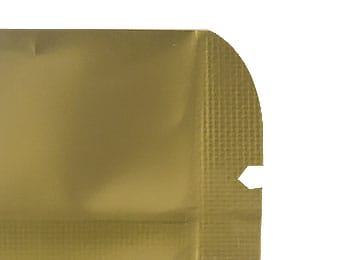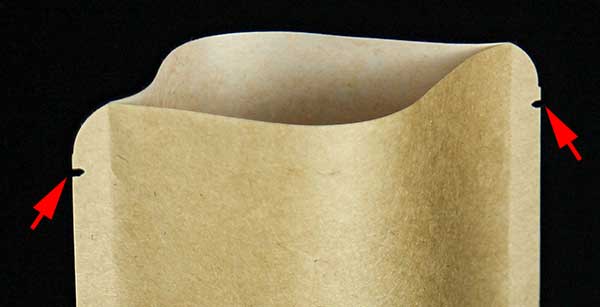 The tear notch is the small cut at the top corner of the pouch that allows consumers to easily open it. Consumers can use their thumbs or fingers to pull this flap up, exposing the opening on top of the pouch.
It has been observed that people might not be able to open some pouches. Because of this, tear notches are added to make it easier for people to open them. This innovation has helped make the recyclable pouches more popular and easy-to-use.
Consumers should not confuse tear notches with zip-locks which are commonly used for both non-recyclable and recyclable pouches.
Laser scoring is a process that is carried out by a machine and it uses a laser beam to score the material that makes up the recyclable pouch. The laser cuts through the material and leaves cuts behind. This way, it becomes easier for people to open up recyclable pouches.
The laser scoring on these pouches will make it even easier for consumers to open them. Currently, people have to use scissors or break the seal with their hands which is a time-consuming process.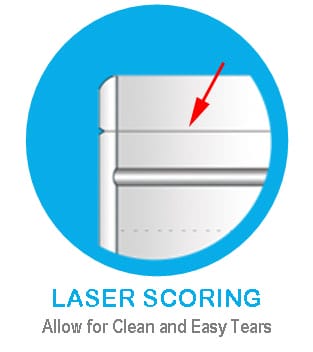 Part 5: Pouch Types of Recyclable Pouch
There are three types of recyclable pouch: Bottom gusset, side gusset and flat bottom.
Bottom gusset pouches offer a great amount of stability and can be used for heavier products like liquids or granola bars. They also offer the best protection against spills.
Side gusset pouches provide a better seal than bottom-gusset pouches and are more appropriate for products with liquid content, such as soup mixes or sauces that need to be stored away from light and air.
Flat bottom pouches provide the best protection against leaks and also have a better barrier to oxygen which makes them perfect for items that need to stay fresh, such as chips or cookies.
5.1: Recyclable Pouch With Bottom Gusset
Recyclable pouches are environmentally friendly containers that can be used for food or drink packaging. They come in different shapes and sizes, but the most common type is the bottom gusset pouch which is made of a single piece of material.
The bottom gusset has a triangular shape with three points at the base. The point at the bottom is used to hold the pouch in place, while the two points on the sides are used to form a triangle that attaches at one side.
Ouma recyclable pouches are made from the high barrier materials. The multi-lamination give your products superior shelf life. For request of eco protection, the PE mono material is the best solution.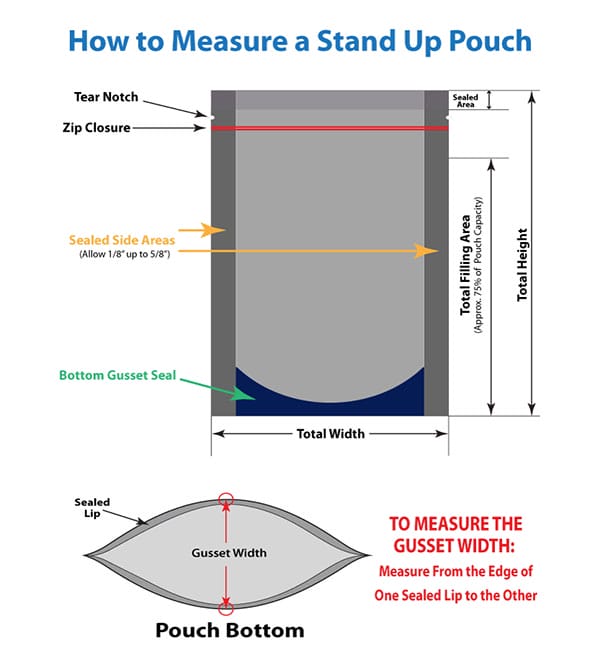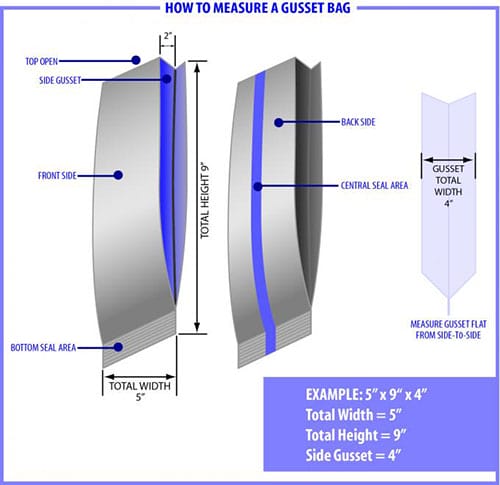 5.2: Side Gusset Recyclable Pouch
Side gusseted stand up pouch are named for the gussets, or folds, on each side. The gussets expand when the pouch is filled, and the weight of the product usually holds the bag upright.
Side-gusset pouches are the most common pouch type. These pouches come in a variety of sizes and shapes, and can be made from different materials such as recyclable paper, PE.
Side-gusset pouches are used for a wide range of products. They can be found in food and non-food industries such as:
1. Convenience food: Side-gusset pouches can be used to package fresh snacks like chips and cookies.
2. Bakery: Side-gusset pouches are often used to pack breads and pastries because they can accommodate large pieces of dough or pastry dough (Bakery Packaging Types).
3. Frozen Food: The side gussets make it easy to lift the lid and take out what you need.
5.3: Flat Bottom Recyclable Pouch
Flat bottom recyclable pouches, also known as block bottom pouches, box pouches, are another popular packaging bags. The production of flat bottom pouches is a little more complicated, compare to that of stand up pouches.
Flat bottom recyclable pouches are becoming popular for many reasons. First, they are much easier to load and unload than the traditional pouches because they don't require you to turn them upside down. Second, because of their flat bottom, they take up much less storage space than the traditional block bottom bags which saves money for retailers.
The shape of the flat bottom allows for more space to be used inside the pouch. It also helps with stacking and storing in a warehouse because they're easier to pick up.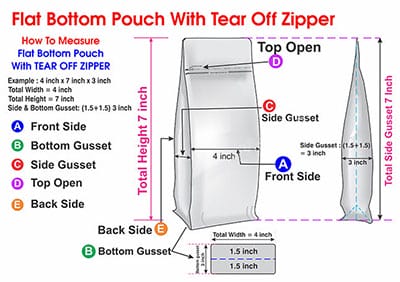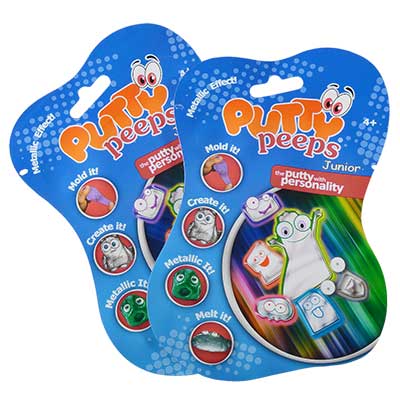 5.4: Fancy Shape Recyclable Pouch
The purpose of using a die cut shape pouch for packaging is to create an impression that the customer will get value from the product they are purchasing.
Fancy shape recyclable pouch is a type of pouch with a fancy shape. It is made by die cut, so the finished product can be any shape one wants.
The pouch can be made to have different shapes, so it is commonly used for candy, biscuits and other food packaging. With this type of packaging, customers are able to see the products inside clearly even when they are placed inside a crowded store shelf.
5.5: Quad Seal Recyclable Pouch
The Quad seal is a pouch with a large top opening, two vertical side gussets, and a bottom seal. The pouch is made of quality materials that are durable and easy to recycle.
This type of convenient packaging can be used in many different industries for food storage.
Quad seal recyclable pouches are an innovative type of pouch that has been introduced in response to many people's need for environmentally friendly packaging solutions. Quad seal pouches are made from recyclable plastics and can be easily recycled into new products and materials.
Ouma is one of the recyclable quad seal pouch manufacturer with more than 20 years experiences.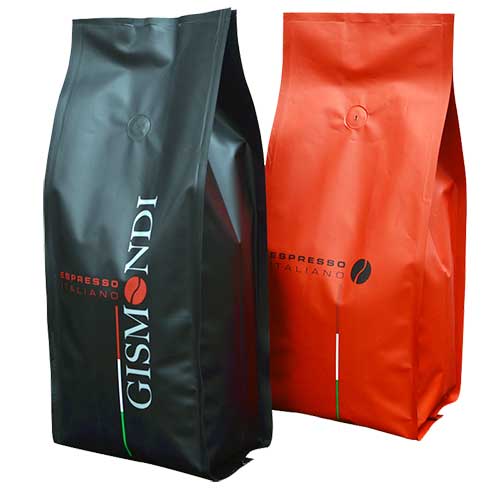 Part 6: Recyclable Pouch Material Guide
The mono PE recyclable pouch is made of single one material: PE. But to add high barrier feature, and custom printing to the pouch, the recyclable pouch will have to be made in multi-layer structure.
The outside layer is normally LDPE. The inside layer is the high barrier film EVOH-PE. It's one of the PE material, but with higher barrier feature. This will keep the food and coffee fresh, extend the shelf life.
Part 7: Recyclable Pouch Manufacturing Guide & Quality Assurance
A qualified recyclable pouch will bring your products both long shelf life span and powerful marketing. It create a wonderful emotional connection between your products and your consumers.
Ouma flex pack has been devoting ourselves to help achieve your success in your market. So we take the recyclable pouch quality as important as our lives. We focus on each process during production as follows:
1. Order confirmation:
After having your purchase order, we will contact you and confirm each detail via email and telephone. You are welcome to reach us 7*24 by email or phone call whenever you like.
You will have our sales confirmation within 24 hours, including the size, color, add-ons and lastly the purpose. We will specify the requirement or properties you need to be included in your stand up pouch.
2. Down payment:
We will send you the proforma invoice after you sign and send back the sales confirmation. You are supposed to arrange the down payment according to the PI. Normally, it will be 30% to 50% of the order amount.
We will launch the process upon the receipt of the down payment bank slip.
3. Raw materials purchase:
Our production department will prepare all the films, and add-ons like valves, ziplock, spouts, etc.
If there is printing on the pouches, the printing cylinders will be arranged at the same time. It takes 7-10 days for the preparation of all raw materials and stand up pouch accessaries.
4. Printing:
All printing processes reproduce lines and / or dots that form an image. Printing is the process of manufacturing multiple copies of graphic images. Although most people think of printing as putting ink on paper, printing is not limited to any particular materials or inks. The embossing process uses no ink at all, and all shapes and sizes of metals, wood and plastics are common receives of printed messages.
The following major printing processes are used to reproduce graphic images. Each of these processes is suited for specific applications, such as newspaper, book, packaging bags, or textile printing.
–Relief printing:
The relief printing process includes letterpress printing, flexographic printing, and all other methods of transferring an image from a raised surface.
–Intaglio printing:
Intaglio printing is the reverse of relief printing. An intaglio image is transferred from sunken surface. It's also known as gravure printing, photogravure printing.
–Screen printing:
Screen printing transfers an image by allowing ink to pass through openings in a stencil that has been applied to a screen mesh.
–Lithography printing:
It's a relatively new process, dating from around 1798. Offset lithographic printing is the most widely used printing process in the commercial printing industry.
5. Composition:
The advent of composites was a revolutionary shift in packaging.Each single material has its own advantages, disadvantages and characteristics.
For example, metallic materials are brittle and not resistant to corrosion, but have excellent barrier properties; LDPE is chemically resistant, easy to heat seal, and easy to process, but its strength and oxygen barrier properties are poor.
Composite can make up for the shortcomings so that a variety of single-performance materials are combined into a new material with comprehensive performance.
The soul of composite flexible packaging lies in the composite, is the superposition of performance. This is also the technical core of the production of composite flexible packaging.
6. Curing:
After the coffee bag roll films are composited, it could not go for slicing right away. Because it takes 72 hours of curing before it's available for next process. It's important to make sure it's a fully curing, otherwise the composite layers may peel off.
7. Slicing:
The roll-form raw material will be cut by slicing machines to exactly the width needed for a pouch. There will be always big quantity of film rolls, the slicing machine will cut with an accuracy of 0.1mm, and keep the roll in perfect conditions.
A perfect slicing will help to speed up the converting process. Otherwise, it will slow the production speed, and waste the raw materials, bringing lots of lots and time and costs.
8. Converting:
Most of the converting job is done by machines. After loading the stand up pouch film roll onto the converting machine, it will go through the first part of the machine, folding according to the pouch type, sealing the bottom and both edges, punching holes, adding ziplock, etc.
9. QC (Quality Control):
Product quality is the basis for the long-term development of enterprises. In order to ensure that all goods meet quality standards, we have established a perfect quality control system:
A. IQC: In-Line QC, there will be 3 production engineers keep checking each section on the production line during the whole production. In fact, the machines have auto monitoring functions, but we still arrange QC checking for 100% assurance.
B. FQC: Final QC: at the end of the production line, there is 1 QC checking each bag, and pick out the disqualified one.
C. OQC: Outgoing QC: before packing to export cartons, we arrange outgoing QC to do another 100% quality checking and pick out disqualified items in the case.
10. Packaging:
After the packaging pouches & bags are through the full QC process, they will be packed by bundles, putting into transparent poly bags. Pouches in bundles will be packed into corrugated cardboard cartons.
The packing quantity of each carton could be indicated by clients, according to different sales methods and purposes. In this way, the pouches will be packed by customized cartons specially for this order, instead of standard size. There will be extra cost for custom cartons.
There could be custom printing on cartons and labels as well. This will also cost a small amount from the client, but it will bring great help to the promotion and storage.
Part 8: Recyclable Pouch Storage and Transportation
Once the stand up pouch production is done, we will deliver it to the client and ship it to their address. The stand pouches will be stored in our warehouse for a couple of days before delivery.
All of our warehouses are located in China, so all your products will be safe and sound before they ship out. In most cases, it takes about 15-25 days from order to delivery from us.
We have a team of professionals who help with logistics and shipments. We can ship our goods anywhere in the world, from Asia to North America to South America.
We offer a variety of shipping and transportation services and we won't inconvenience our clients with the hassle. All they need to do is wait once it gets there and we'll take care of everything beforehand, including custom clearance and transit in destination ports.
| Loading Ports | Destination | Port of Discharge |
| --- | --- | --- |
| Shenzhen / Guangzhou / HK | USA | Los Angeles / Oakland / New York / Chicago |
| Shenzhen / Guangzhou / HK | Australia | Melbourne / Sydney |
| Shenzhen / Guangzhou / HK | Netherlands | AMSTERDAM / Rotterdam |
| Shenzhen / Guangzhou / HK | Canada | Vancouver / Toronto |
| Shenzhen / Guangzhou / HK | South Africa | Cape Town / Durban |
| Shenzhen / Guangzhou / HK | Europe | Antwerp / BREMEN / HAMBURG / FELIXSTOWE / Barcelona |
Recyclable Pouch Supplier: OUMA Flex Pack
Ouma has been making flex pouches and stand-up pouches for over 20 years and has a wide range different pouches: stand up pouch, recyclable pouch, biodegradable pouch, flat bottom pouches, spout pouch, etc.
Our recycled pouches are customizable which is perfect for small-batch brands and start-ups. Our packaging helps ensure your business thrives in competitive global marketplaces. Garbology has 3 fully-owned Garbology manufacturing plants and has control over most production processes. We also have 100% inspection of every product we produce, ensuring that you always get the best quality
With us, your business is safe! Your money is safe!
OUMA promotes green initiatives and takes environmental protection as a key task. We are committed to achieving zero-waste development of the company , which is why our products are reusable, recyclable or compostable.
We are dedicated to becoming your most trusted partner by providing you with high quality products at competitive prices. You can contact us at any time to discuss how we can best help you while also providing the best solutions for your business.