OM-013B Stock Aluminum Stand Up Zip Pouch
A stock aluminum stand-up pouch refers to a pre-designed and readily available packaging solution made from aluminum lamination. It is a versatile and popular packaging option widely used in various industries. The pouch is designed with a bottom gusset that allows it to stand upright on store shelves, providing excellent visibility and maximizing the impact of your product.
The aluminum material used in these pouches offers exceptional barrier properties, including protection against moisture, oxygen, and UV light. This helps to maintain product freshness, extend shelf life, and preserve the quality of the contents. The pouches also feature a convenient zip closure, allowing for easy opening and secure resealing, ensuring product integrity and convenience for consumers.
Stock aluminum stand-up pouches are available in standard sizes and designs, making them a cost-effective and efficient packaging solution for small to medium-sized businesses. They are suitable for a wide range of products such as snacks, coffee, tea, spices, pet treats, and more.
With their attractive appearance, durability, and functionality, stock aluminum stand-up pouches provide a professional packaging solution that enhances brand visibility and customer engagement.
Aluminum Stand Up Pouch Product Features
Aluminum stand up pouches are an excellent packaging option for many products. These pouches are made of aluminum foil laminated with various plastic layers, allowing the bag to stand upright on shelves. Aluminum provides an excellent barrier to light, oxygen, and moisture, helping preserve food freshness and shelf life. There are many other features as follows:
.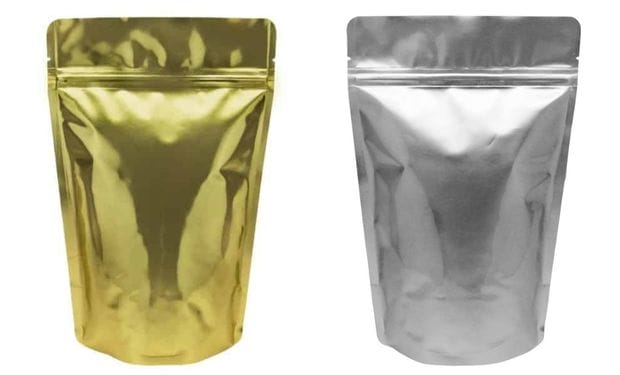 These pouches typically use gold or silver aluminum foil laminated with various plastic layers, allowing the bag to stand upright on shelves.
The gold and silver foil provide an attractive, eye-catching look in addition to excellent barrier properties.
Aluminum provides a complete barrier to light, oxygen, and moisture, helping preserve food freshness and shelf life.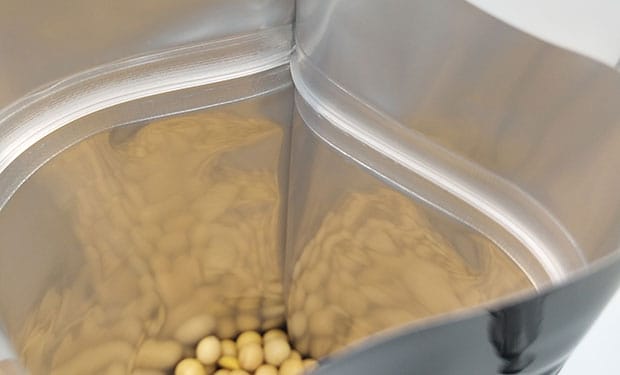 A main feature of stand up pouches is the press zipper closure. The press zipper provides an easy open and close mechanism while still keeping contents secure and fresh.
This zipper runs along the top edge of the pouch, allowing for easy opening and resealing. The press zipper closure keeps contents secure and fresh by providing a tight seal, preventing leaks and spills.
Yet it also allows for convenient access to the pouch contents with just a press of the fingers.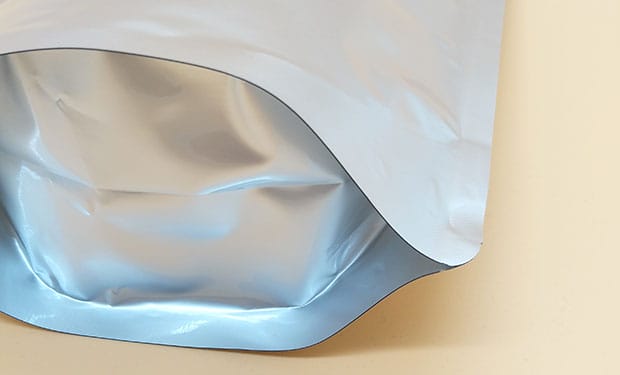 Aluminum stand up pouches feature a self-stand bottom gusset. This specially designed bottom allows the pouch to stand upright on shelves for attractive product display.
The gusset folds inward, creating a flat bottom surface. This gives the flexible pouch stability to stand on its own without any external support. The self-stand feature enables easy storage, transportation, and merchandising of the pouches.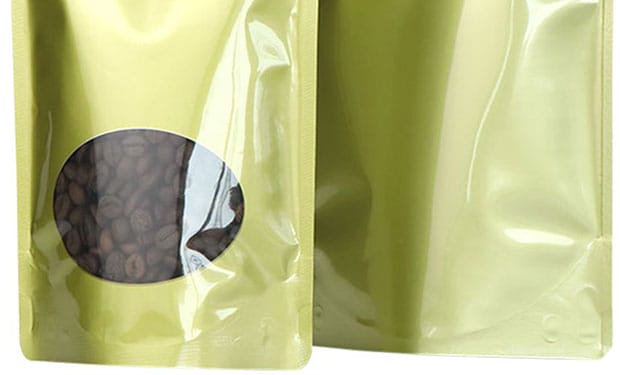 The colored aluminum foils provide the same excellent barrier properties against light, moisture, and oxygen.
This maintains freshness and shelf life while allowing brands to incorporate color into their packaging for visual appeal. Color foils expand the packaging customization possibilities, enabling unique color combinations and gradients.
With multi-color foil printing, aluminum stand up pouches can align with specific brand colors and aesthetics. The color possibilities allow for creativity in design while maintaining the durability and functionality of aluminum foil pouches.
Coffee beans release a significant amount of carbon dioxide gas during the roasting process and continue to emit gas after roasting.
If this gas could not escape from the bag, it can build up pressure inside the bag and cause the bag to burst or the coffee to become stale or rancid.
A degassing valve is needed and typically placed in the front or back of the Mylar bag. The valve allows carbon dioxide gas to escape from the bag while preventing oxygen, moisture, and other contaminants from entering the bag.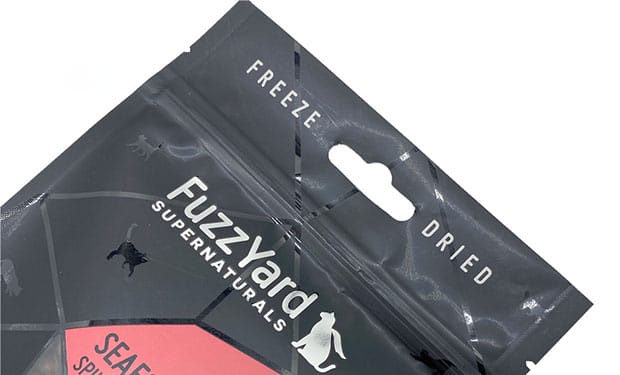 Aluminum stand up pouches can be enhanced with a die-cut hang hole to maximize product visibility and accessibility. The hang hole is cut into the top of the stand up pouch, allowing the bag to be hung from pegs or hooks for display.
Hanging pouches directly on pegboards and racks keeps them upright, prominent, and easy to remove. This can be useful in retail environments where shelf space is limited.
The pouches can be tailored to fit the exact dimensions of the product being packaged. This helps minimize excess materials and prevents shifting inside the bag. The customized fit reduces wasted space and materials compared to using standard pouch sizes.
Pouches can be designed to hold everything from small granola portions to large bulk quantities. Custom sizing also allows for designing the ideal width and height for shelf display and consumer handling.
Customize Your Aluminum Stand Up Pouches
There are many customizable features that can be tailored to create the ideal pouch for any item being packaged. The pouch dimensions can be made to precisely fit the product, reducing wasted space and materials. Features like zipper closures, spouts, handles, and hang holes can be added based on required functionality.
Aluminum Stand Up Pouch Showcase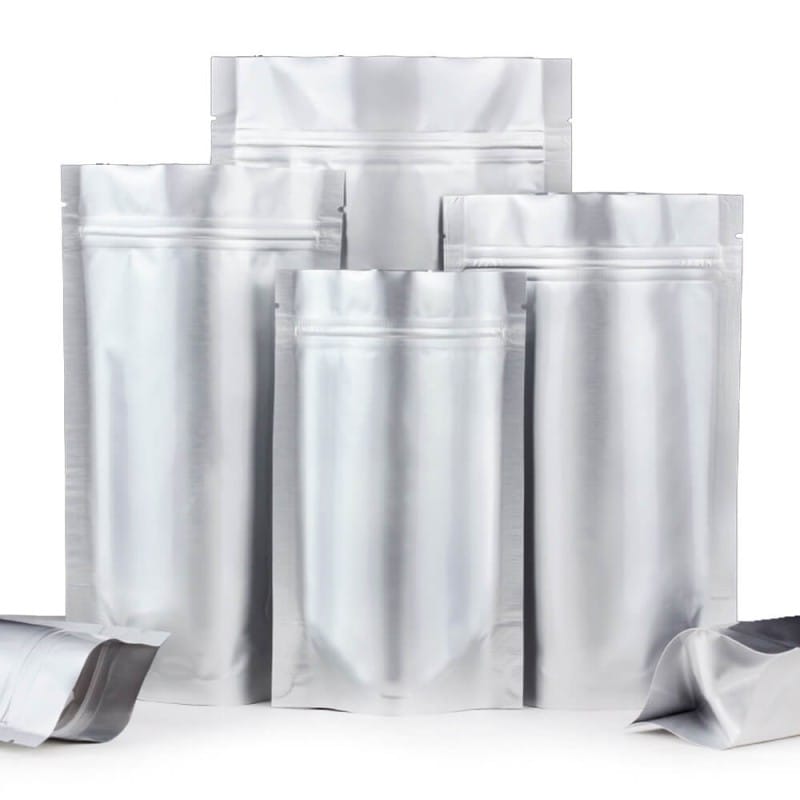 Why Choose Ouma As Your Partner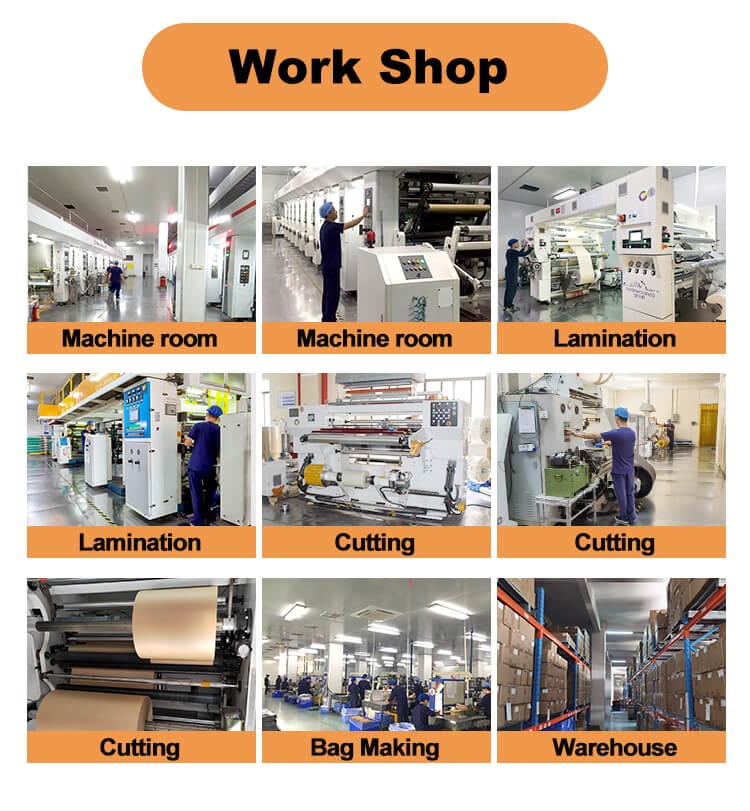 Real  Manufacturer
Ouma is a leading flexible packaging manufacturer that has been serving the industry since 2000, with 100% self-owned plants.
With years of experience and expertise, Ouma is committed to providing high-quality and innovative packaging solutions to meet the unique needs of our customers.
Ouma offers a wide range of flexible packaging products, including Mylar bags, stand-up pouches, flat bottom pouches, retort pouches, flat pouches, and more.
These products are available in a variety of sizes, shapes, and colors, and can be customized to fit the specific needs of each customer.
At Ouma, quality and customer satisfaction are top priorities. Ouma uses only the highest quality materials and employs strict quality control measures to ensure that our products meet the highest standards of excellence.
Triple-100% Quality Control Process
Our first priority is to offer qualified products 100% upto requirement. To achieve the goal, we set up a Triple-100%-Quality-Control-Process. With it, we have been offering fully qualified pouches and bags to the global market.
Frequently Asked Questions (FAQ)