Shaped Pouches
Ouma Shaped pouches and bags provide a guaranteed way to stand out on retail shelves. With a wide range of in-house pouch converting equipment and die-cutting technology, we can design and manufacture customized pouches with modern, ergonomic shapes.
Die-cut shapes can reinforce your branding, add convenience by making a package easier to use, and even provide structural benefits such as providing additional stability.
With stand-up pouches and bags rapidly becoming more common, shapes are a new frontier for brands to differentiate from competitors and stand apart on the shelf.
Key Benefits of Shaped Pouches & Bags
Convex, easy to grip shapes

Hourglass, easy to pour shapes

Rounded Corners

Built-in Handles

Spouted, easy to squeeze shapes
Shapes Pouches in Different Types
Customized Spout Shaped Pouches
Pouch shapes can be completely customized based on your specifications. Examples include:
Convex shaped pouches (ergonomic and easier to grip)

Hourglass shaped pouch (ideal for liquids)

Shaped pouches with rounded corners

Shaped pouches with ergonomic handles

Squeezable pouches shaped with built-in spouts (removing the need for a fitment or straw to consume the product)
From customized shapes to innovative fitments and spouts, Ouma offers the capabilities you need to create consumer-centric pouches that stand out.
Custom Ziplock Shape Pouches
Custom zipper shaped standing bags
Perfectly fit your product promotion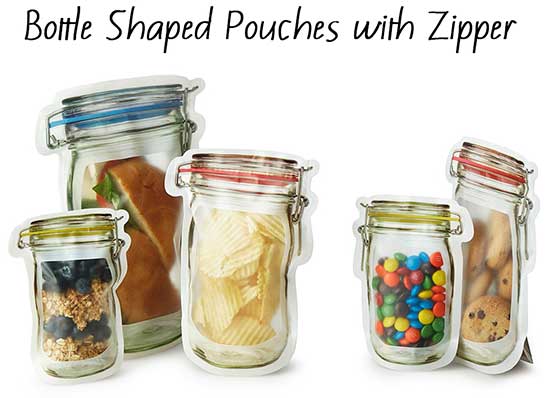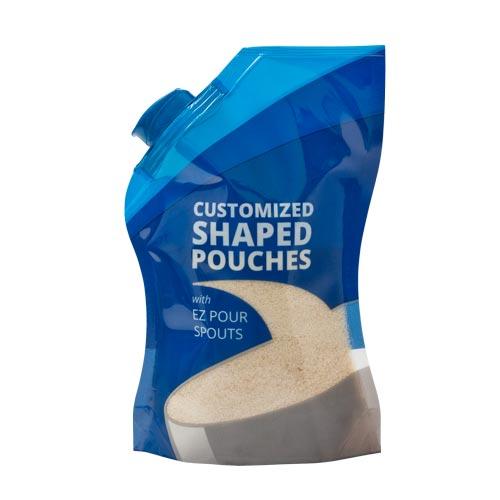 Shaped Pouches With Clear Window
Window shapes in the custom style
Round / Oval / Shape windows
Customization for product branding
Frequently Asked Questions
Q1: Is Ouma a trader or a real manufacturer flexible packaging products? 
A1: Ouma has been a flexible packaging bags & pouches converter for more than 20 years. We are a trusted flexible packaging expert. 
Q2: What's the MOQ of flexible bags & pouches / flexible rolls to purchase?
A2: For bags & pouches, the MOQ for each size in each design is 10,000pcs; for flexible film rolls, the MOQ for each size in each design is 100kgs.
Q3: What's the payment methods available & terms of payment?
A3: The available payment methods is: T/T, Paypal, Western Union, L/C; Terms of payment: 30% deposit upon order, balance before cargo delivery.
Q4: Do you offer samples for quality checking?
A4: Ouma offers existing samples free of charge for quality checking. If you would like to have samples 100% same as your order, there will be sampling charges.
Q5: What is mass order production lead time?
A5: For orders of LCL, the regular lead time is within 14 days; for FCL orders, the regular lead time is within 21 days.
Q6: What is trade terms for mass orders?
A6: Ouma regularly deal with trade terms of EX WORKS, FOB, C&F, CIF.
Triple-100% Quality Control Process
Our first priority is to offer qualified products 100% upto requirement. To achieve the goal, we set up a Triple-100%-Quality-Control-Process. With it, we have been offering fully qualified pouches and bags to the global market.
Flexible Pouches & Bags Applications
Ouma Flexible Packaging has the technology and expertise to manufacture customized pouches for a wide array of products. 
Condiments
Dressings
Marinades
Spreads
Jams
Peanut butter
Honey
Sauces
Syrups
Butter & shortening
Cooking oils
Vinegar
Baby food
Fruit Purees
Yogurt
Water
Juices
Sports drinks
Energy drinks
Dairy drinks
Alcoholic beverages
Protein shakes
Coffee drinks
Sugars & sweeteners
Spices & Seasonings
Nuts, seeds, & Grains
Trail mix
Confectionary & candy
Pet food
Powdered drink mixes
Lotions
Conditioners
Shampoos
Gels
Creams
Ointments
Oil
Lubricants
Laundry detergent
Cleaners
Stain removers
Insect repellents
Bath crystals
Dish soap
Hand soap
Do you offer custom printing service? What custom printing do you use?
Ken Ou
2021-09-07T10:47:28+00:00
The clients could customize the branding printing with up to 8 colors. We offer HD graphic printing for proper branding, labeling, and logo setting, using the latest printing technologies of gravure, flexo, and digital printing.
What types of add-ons do you fit on Coffee Pouch?
Ken Ou
2021-09-07T10:46:34+00:00
There are a lot of options, including a clear window, tear notches, degassing valves (vents), euro punch holes, re-closable zipper, ergonomic handles, round corners, etc.
What types of material do you offer for Coffee pouch?
Ken Ou
2021-09-07T10:45:13+00:00
The clients can indicate the material structure for their unique products. We will make professional suggestions according to our experiences as well. There are a variety of composite films that we use in the manufacturing of Coffee pouches. Mainly among MOPP / PET / AL / PE / CPP.