Stock Flat Bottom Coffee Pouches
Stock flat bottom coffee pouches are pre-made coffee bags that have a flat bottom and stand upright on their own. These pouches are typically made from laminated materials that provide excellent barrier properties to protect the coffee from moisture, oxygen, and other external factors that can degrade its quality. The flat bottom design not only offers stability but also allows for more efficient packing and storage of the coffee bags.
These pouches are often used by coffee roasters and retailers to package their coffee products. The flat bottom design makes them ideal for retail shelves as they can be easily displayed and stacked. Additionally, they can be customized with various features such as resealable zippers, tear notches, and degassing valves to enhance their functionality and convenience.
Stock flat bottom coffee pouches are available in various sizes and styles to cater to the specific needs of different coffee brands and roasters. They can be purchased in bulk from packaging suppliers and are a popular choice for smaller coffee businesses as they offer a cost-effective packaging solution without compromising on quality.
Stock Flat Bottom Coffee Pouch Categories
The box pouch design allows for easy opening and resealing of the bag, which is convenient for consumers who want to enjoy fresh coffee without the hassle of transferring the beans to an airtight container.
Stock Flat Bottom Coffee Pouch Custom Solutions
Some clients will still want to add custom branding printing, even to purchase the stock pouches in small MOQ. As a supporting flexible food pouches supplier, it's our responsibility to offer such services to meet all of the customers' demands. There are several printing options available for custom branding printing on stock stand up pouches, including silkscreen printing, stamp printing, and sticker labels.
Benefits of Choosing Stock Flat Bottom Coffee Pouches
Choosing stock flat bottom coffee pouches can offer a cost-effective, versatile, high-quality, sustainable, and convenient packaging solution for food products. There are several benefits of choosing stock flat bottom coffee pouches for your food packaging needs, including:
Why Choose Ouma As Your Partner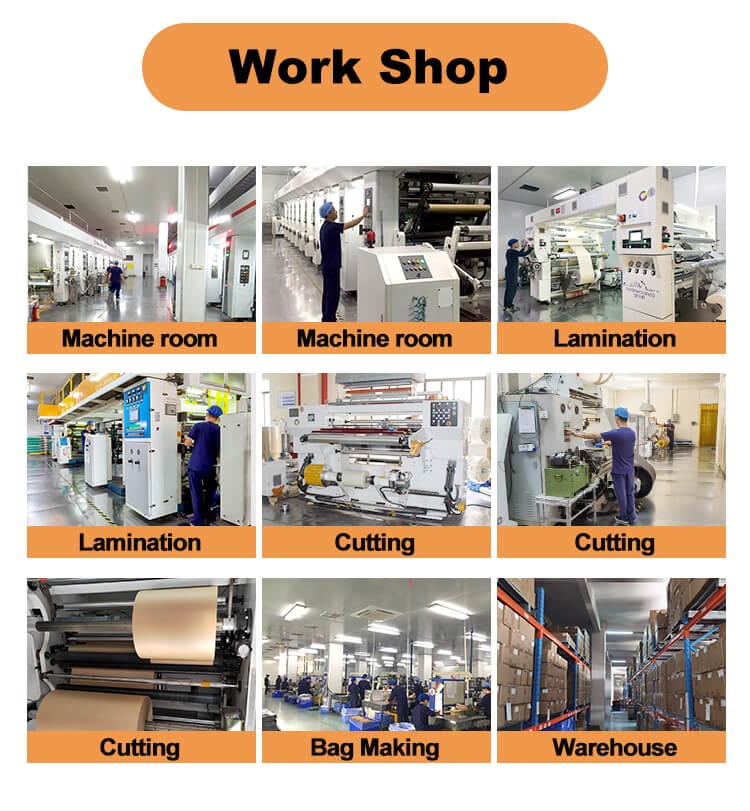 Real  Manufacturer
Ouma is a leading flexible packaging manufacturer that has been serving the industry since 2000, with 100% self-owned plants.
With years of experience and expertise, Ouma is committed to providing high-quality and innovative packaging solutions to meet the unique needs of our customers.
Ouma offers a wide range of flexible packaging products, including Mylar bags, stand-up pouches, flat bottom pouches, retort pouches, flat pouches, and more.
These products are available in a variety of sizes, shapes, and colors, and can be customized to fit the specific needs of each customer.
At Ouma, quality and customer satisfaction are top priorities. Ouma uses only the highest quality materials and employs strict quality control measures to ensure that our products meet the highest standards of excellence.
Frequently Asked Questions (FAQ)
Related Stock Stand Up Pouches
If you're interested in stand up pouches, be sure to check out the wide range of products offered by Ouma. In addition to stand-up pouches, Ouma also produces a variety of packaging solutions to meet your needs. Ouma offers flat pouches, gusseted bags, side-seal pouches, and more. To browse other products, click the following links and explore other product categories.