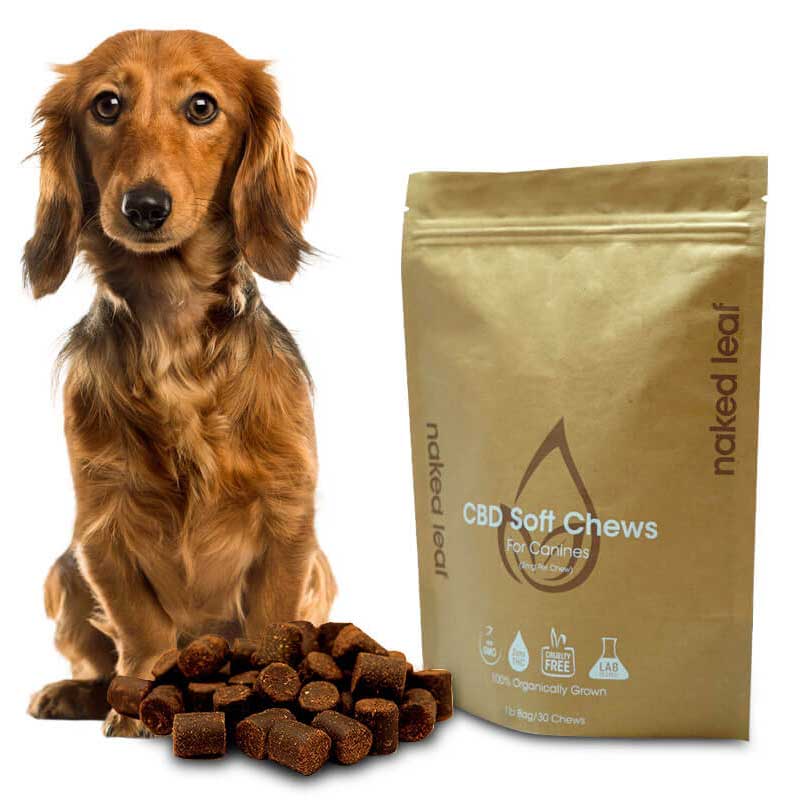 Pet food pouch is available with custom printing | Low MOQ 1000pcs To Start
A pet food bag is a bag specifically designed to hold pet food.
Pet food bags come in a variety of sizes and shapes, depending on the type of pet food they are meant to hold.
A cat food bag will be smaller and narrower than a dog food bag.
Most pet food bags are made from sturdy materials that can withstand being chewed or scratched by pets.
Some pet food bags also have a pour spout, which makes it easier to dispense the food into pet bowls.
Whether you have a cat, dog, or other type of pet, there is likely a pet food bag that is perfect for your needs.
We make it easy to start your new business with us by having a low minimum order quantity of 1000 units.
Free pet food pouch samples available for quality reference
Get best quotation for custom pet food pouch within 24 hours
What Are The Pouch Types Of Pet Food Pouch?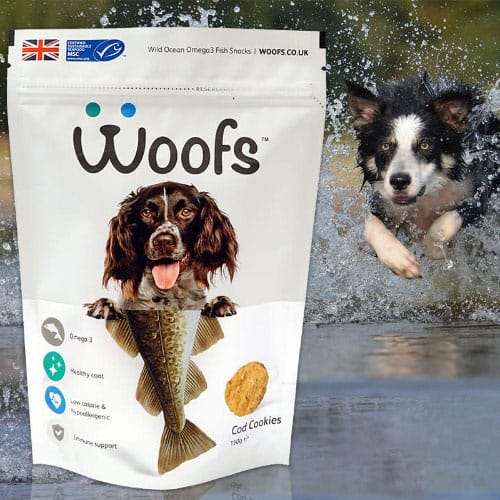 1. Doypack Pet Food Pouch
If you're looking for a pet food bag that's both stylish and functional, look no further than the doy pouch.
This bag features a bottom gusset that makes it easy to fill with pet food, and the pouch design is perfect for carrying around.
Plus, the doy pouch comes in a variety of colors, so you can find the perfect one to match your pet's personality.
Whether you're headed to the park or just running to the grocery store, the doy pouch is a great way to carry your pet's food with you.
2. Flat Bottom Pet Food Pouch
A pet food bag is a type of flat bottom pouch that is designed to hold pet food. The pouch has a zip closure at the top and a built-in handle for easy carrying.
The bag is usually made from a durable, food-grade material such as PET, OPP or polyester.
Pet food bags are available in a variety of sizes to accommodate different pet food products. Some pet food bags also have a built-in dispenser for portion control.
Pet food bags are convenient for storing and transporting pet food, and they can help to keep the food fresh and dry.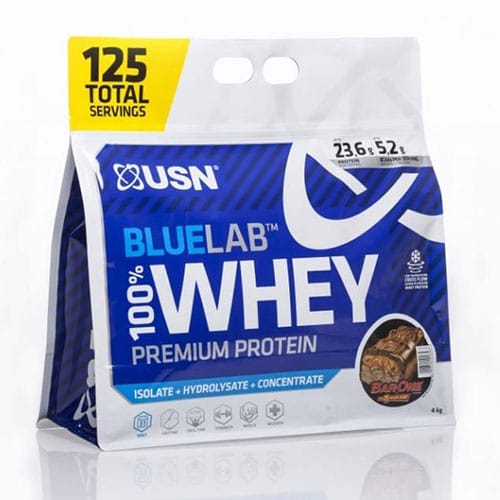 Flat Bottom Pet Food Pouch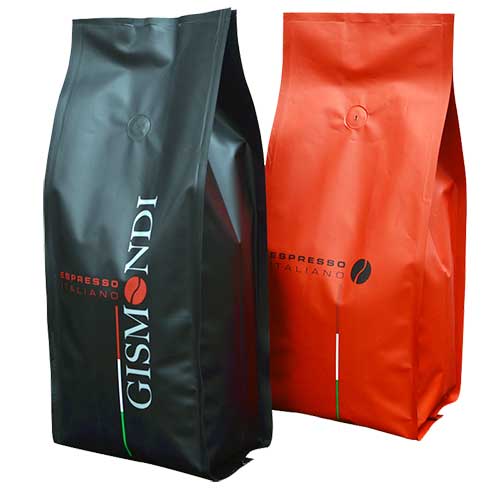 3.Quad Seal Pet Food Pouch
A quad seal pet food bag is a type of pet food packaging that features four seals. These seals help to keep the pet food fresh and free from contaminants.
Quad seal pet food bags are often made from foil or plastic, and they can feature a variety of different designs. Some quad seal pet food bags have a clear window on the front, so that pet owners can see the food inside.
Others are designed with a zippered closure, which makes it easy to access the pet food.
Quad seal pet food bags are also available in a variety of different sizes, so that they can accommodate all types of pet food.
4.Side Gusset Pet Food Pouch
Side gusset pet food bags are a popular choice for pet food packaging. These bags have gussets on the sides, which allows them to stand up straight when filled with pet food.
This makes them easy to store and display on store shelves. Side gusset pet food bags are also available in a variety of sizes, making them a versatile option for pet food packaging.
In addition, side gusset pet food bags can be printed with your brand's logo and artwork, making them an ideal choice for marketing your pet food brand.
If you're looking for a pet food bag that is both functional and eye-catching, side gusset pet food bags are an excellent option.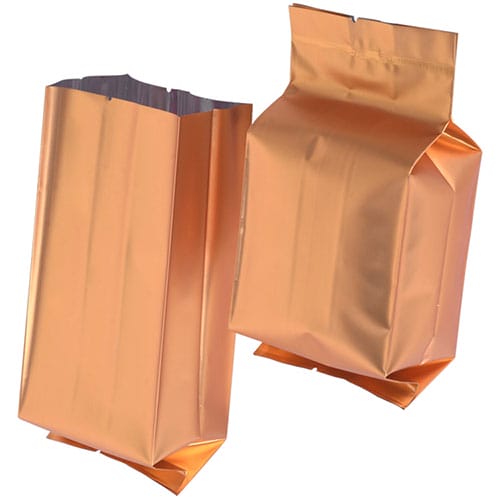 Side Gusset Pet Food Pouch
Can We Have Custom Pet Food Pouch with

Branded Printing & Specified Sizes?
Custom pet food pouches provide an efficient and affordable way to label and differentiate your pet food products. With custom printing, you can choose exactly how you want the packaging of your pet food to look; many businesses even use custom branding that reflects their company's values and aesthetic appeal.
Not only is custom printing a visually attractive option, but each custom pouch can also be crafted to specified dimensions in order to properly store whatever amount of pet food you require. No matter what type of pet food product you are selling, custom pouches are sure to provide both style and function while elevating the look and appeal of your pet food offerings..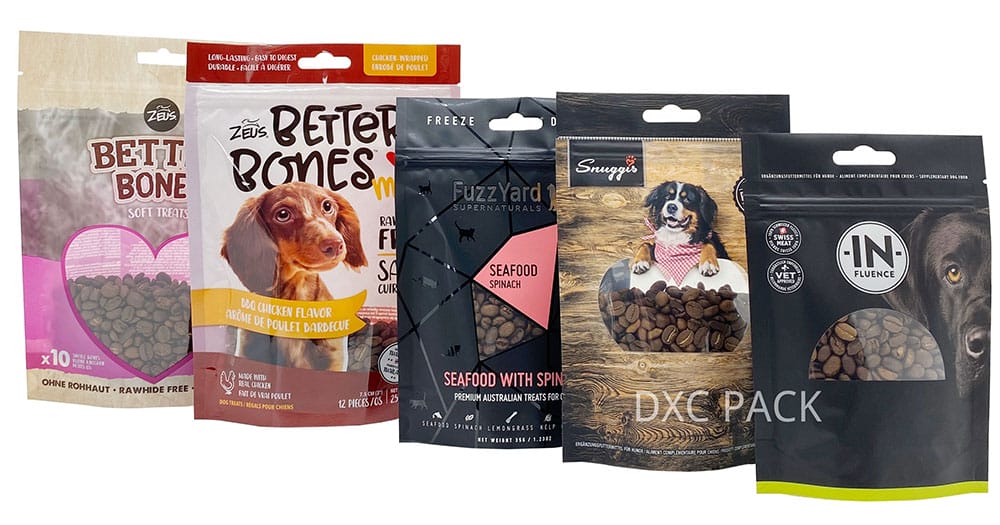 What Are the Add-on Features Available for Pet Food Pouch?
Resealable Ziplock Closure
A pet food pouch with a ziplock is the perfect way to ensure that your pet's food remains fresh.
Not only does it keep air out and moisture in, but it also helps keep pests away from pet food. It's as simple as locking the pet food pouch shut tight and storing it in an out of the way place.
The pet food pouch also helps keep pet owners organized; each pet food can be kept separate to decrease confusion when filling dishes.
This pet-friendly product not only makes pet owners' lives easier, but also creates peace of mind knowing that their pets are receiving the freshest, most nutritious meal possible without the added hassle of transferring products from one container to another.!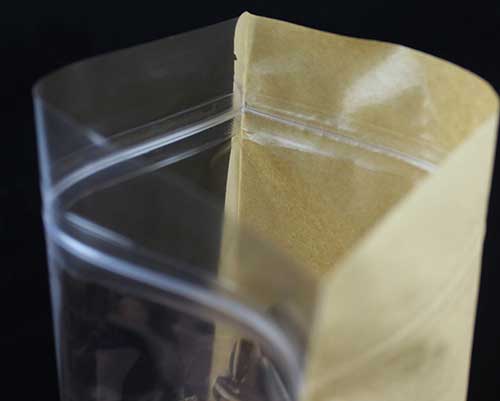 Die Cut Handle Grip
A pet food bag with a die cut handle grip is just the right size for carrying a large load of pet food.
The handles are easy to grip and the bag is lightweight, making it easy to carry. The bag also has a die cut window on the front, so you can see what's inside.
The bags are made from recycled materials and are 100% recyclable.
Tear Notches: Easy Opening
Many pet food bags have a tear notch, which is a small hole or cut-out near the top of the bag.
The tear notch makes it easy to open the bag, so you don't have to use a knife or scissors. Just grab the bag near the tear notch and pull.
The bag will open easily, and you'll be able to pour out the food without any fuss.
So next time you're reaching for your pet's food bag, look for the tear notch – it'll make your life a lot easier.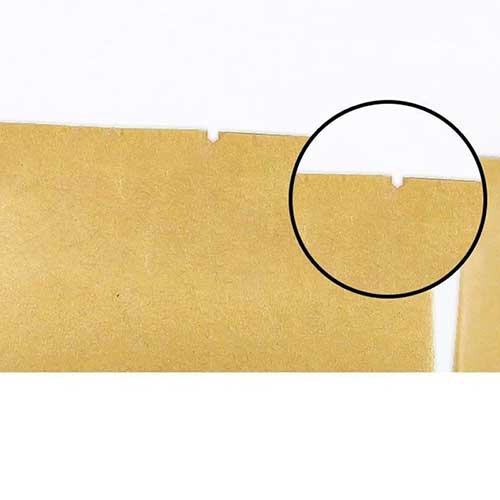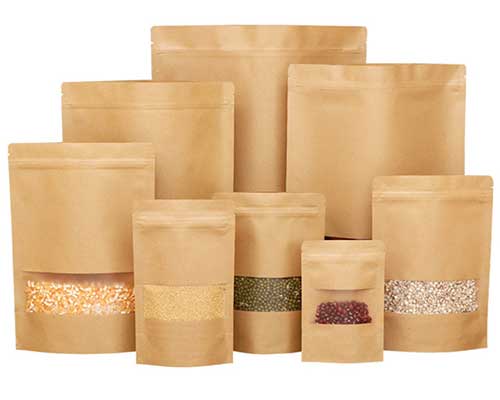 Transparent Window
A pet food bag with a transparent window lets you look through the bag to see what's inside without having to open it.
This is convenient if you're trying to decide which pet food to buy, or if you want to check the quality of the food before you buy it.
The transparent window also allows you to see how much pet food is left in the bag, so you can plan accordingly.
And if you're ever in a situation where you need to ration your pet's food, the transparent window will let you do that easily.
In short, the transparent window is a handy feature that can be useful in a variety of situations.
Ouma Pet Food Pouch: The Best Manufacturer You Can Find in China
Looking for a best partner for custom pet food bags? Look no further!

Our team of experts can help design the perfect bag for your pet food products. We have been in the business for many years and know what it takes to create a high-quality, durable bag that will help you stand out from the competition.

With our pet food bags, you can be sure that your pet food will stay fresh and protected from the elements. We use only the highest-quality materials and construction techniques to ensure that your bag lasts for years.
Contact us today to get started on your custom pet food pouches!.