Ouma Coffee Pouch for Wholesale
Customized Designs, Size, Add-ons |

MOQ 10k
More than 20 years' design & manufacturing experience on Flexible Packaging
MOQ as low as 10k pcs per SKU, to deliver in at least 2-3 weeks
Degassing vent valves of Worldwide brands (WIPF / GOGLIO)
High barrier materials
Available with Kraft, Metallic Foil, Aluminum, PET, PE, BOPP, etc
Premium printing by max 8 colors
Free coffee pouch samples for quality reference
Fastest quotation for custom printing pouches within 24 hours
Ouma Coffee Pouch goes with bespoke specs, shapes, printing, or materials.
Custom-designed flexible packaging pouches available for coffee and coffee bean packaging: Stand up pouches with venting valves & ziplock; Side gusseted bags; Windowed stand-up bags; Paper SOS bags; Tin-tie pouches; Kraft shopping bags, etc.
Ouma Produce Various Types of  Wholesale Coffee Pouch
Flexible coffee pouch are now the main coffee packaging way. Tin cans and kraft boxes are already out of date as the packaging for coffee. Then which coffee pouch will be the best choice? Ouma has over 20 years of manufacturing experience.
The venting valves are designed to make air exit from the package. Because roasted coffee beans always release carbon dioxide, the valves allow roasters to package their products right away, without any risk of bursting coffee pouch. The features of degassing valves make them the perfect choice.
All Ouma flexible packaging are suitable for the packaging of roasted coffee beans, ground coffee. Ouma will bring your ideas of custom coffee pouch into reality. Let OUMA  help you succeed in your industry!
Coffee Pouch Size Charts for Reference
| | |
| --- | --- |
| MOQ | 10k-20k per SKU |
| Volume | 2oz, 1oz, 3oz, 4oz, 6oz, 8oz, 10oz,  12oz, 16oz, 20oz,  24oz, 1lb, 2lbs, 4lbs, 6lbs |
| Materials | PET / Matt BOPP / ALU /VM PET/Kraft Paper / LLDPE |
| Thickness | 2.5Mil-8Mil (70Mircons-200Mircons) |
| Add-on Features | Punching Hole, Euro hole, Handle, Ziplock, Valve, Window, Tear Notch, Round Corner |
| Appearance | Custom Design Printing, UV Logo, Stamping, Matt Surface, Glossy Surface |
| Leadtime | Cargo to be ready 10-20 days after order |
| Terms of Payment | Wire Transfer (T/T) / Paypal / Western Union |
| Volume (gram) | Volume (oz) | Width (mm) | Width (inch) | Length (mm) | Length (inch) | Gusset (mm) | Gusset (inch) |
| --- | --- | --- | --- | --- | --- | --- | --- |
| 28 | 1 | 80 | 3.15 | 130 | 5.11 | 40 | 1.60 |
| 70 | 2 | 110 | 4.35 | 160 | 6.30 | 60 | 2.35 |
| 100 | 3 | 120 | 4.75 | 200 | 7.90 | 60 | 2.35 |
| 150 | 4 | 130 | 5.10 | 210 | 8.25 | 60 | 2.35 |
| 250 | 8 | 160 | 6.30 | 230 | 9.05 | 70 | 2.75 |
| 500 | 16 | 190 | 7.50 | 265 | 10.20 | 90 | 3.55 |
| 1000 | 32 | 240 | 9.25 | 335 | 13.20 | 100 | 4.00 |
| 3000 | 106 | 300 | 11.8 | 500 | 17.90 | 70 | 2.75 |
| 4000 | 141 | 380 | 14.9 | 550 | 21.60 | 80 | 3.15 |
| Volume (MT) | Volume (EN) | Width (mm) | Width (inch) | Length (mm) | Length (inch) | Gusset (mm) | Gusset (inch) |
| --- | --- | --- | --- | --- | --- | --- | --- |
| 100 gs | 4 oz | 90 | 3 5/9 | 185 | 7 7/25 | 55 | 2 1/6 |
| 250 gs | 8 oz | 95 | 3 5/7 | 238 | 9 | 70 | 2 5/7 |
| 340 gs | 12 oz | 127 | 5 | 200 | 8 | 80 | 3 1/8 |
| 500 gs | 16 oz | 112 | 4 3/8 | 280 | 10 7/8 | 80 | 3 1/8 |
| 1000 gs | 2.2 lbs | 146 | 5 3/4 | 343 | 13 1/2 | 102 | 4 |
| 1180 gs | 2.6 lbs | 150 | 5 3/4 | 330 | 13 | 118 | 4 5/8 |
| Volume (Mt) | Volume (En) | Width (mm) | Width (inch) | Length (mm) | Length (inch) | Gusset (mm) | Gusset (inch) |
| --- | --- | --- | --- | --- | --- | --- | --- |
| 60 gs | 2 oz | 51 | 2 | 190 | 7 1/2 | 32 | 1 1/4 |
| 100 gs | 4 oz | 68 | 2 2/3 | 226 | 8 7/8 | 42 | 1 5/8 |
| 250 gs | 8 oz | 90 | 3 1/2 | 260 | 10 1/4 | 70 | 2 3/4 |
| 500 gs | 16 oz | 96 | 3 3/4 | 330 | 13 | 77 | 3 |
| 1 kgs | 2 lbs | 136 | 5 1/3 | 420 | 16 1/2 | 77 | 3 |
| 1.4 kgs | 3 lbs | 140 | 5 1/2 | 445 | 17 1/2 | 80 | 3 1/8 |
| 2.2 kgs | 5 lbs | 178 | 7 | 490 | 19 1/4 | 115 | 4 1/2 |
| 5 kgs | 10 lbs | 280 | 11 | 623 | 24 1/2 | 130 | 5 1/8 |
| 10 kgs | 20 lbs | 356 | 14 | 715 | 28 1/8 | 80 | 3 1/8 |
| 20 kgs | 40 lbs | 408 | 16 | 820 | 32 1/4 | 140 | 5 1/2 |
Part 1: What Is Coffee Pouch
A Coffee pouch is a packaging bag specially designed for packaging and delivery of coffee.
Large bulk pouches or sacks are usually used for coffee beans and ground coffee packaging.  It's packed by tin box or cardbord box. They were expensive and taking up a lot of space.
Coffee pouches are fully custom-made, used for different volumes of coffee beans or for ground coffee. Coffee pouches lower the manufacturing and shipping cost and providing different display ways.
The factors to consider when choosing your coffee pouch
Roasted coffee beans, and ground coffee, has strict requests for the external packing conditions. Each factor among odors, lights, vapors, oxygen, or moisture, makes great difference to the shelf life.
Ouma coffee pouch will make your coffee brand succeed in the global market, and stand out ahead of your competitors.
When our client is going to make an order, we will discuss and confirm every detail of the order requirements, and pouch types. Part 5 has more details on coffee pouch types.
To expand the function and upgrade the performance of coffee pouches, we offer some Add-on options for coffee pouches.
We will help our clients to improve the market shares, with our branding designs, labeling, printing. Flexible packaging manufacturing is not a simple job. But it's also not complicated.
We will take care of it with the latest flexible packaging production technology. We are determined to supply premium coffee pouch and packaging pouches made of compostable materials, as shown in Part 6.
Ouma has the well-trained staff and experienced technicians to handle every production process. This enables us to always offer qualified coffee pouches, and help your brand succeed in your markets.
Part 2: Applications of Coffee Pouch
Coffee is a brewed drink prepared from roasted coffee beans, the seeds of berries from certain Coffee species. Coffee goes in different form, roasted coffee beans, ground coffee, or liquid.
Ouma Coffee Pouch Cover All Coffee Products
Self-Stand Spout Coffee Pouches
Coffee is one of the most popular soft drink beverage, besides tea, coco cola, etc. Ouma spout coffee pouches offer you one more choice of container for such liquid drink.
Spouted coffee pouches (also known as fitment pouches) are becoming more prevalent across many industries due to advances in flexible packaging materials and an increasingly wide variety of convenient spouts & fitments available. Many products once limited to rigid packaging are now excellent candidates for spouted pouches.
Coffee Pouch for Roasted Coffee Beans
Ouma Custom coffee pouches are available for roasted coffee beans, in all kinds of pouch types, specifications, and printing. The coffee pouch we manufacture is suitable for both roasted coffee beans and ground coffee, with multi-layer high barrier structures by lamination.
Add-ons like ziplock, valves, hanging holes, are available for all our well-laminated coffee pouches, to help you maintain coffee flavor, freshness, expanding the product shelf life.
Coffee Pouch for Ground Coffee (Powder Coffee)
Ouma coffee pouches are designed for both roasted ground coffee and coffee beans. They are featured with high barrier laminated films, valves, ziplock, etc.
We produce stand up coffee pouches, side gusset coffee bags, 3-side seal coffee bags, pillow flat coffee bags (fin seal pouches).
| Types of Coffee | Packaging Pouch Types Available |
| --- | --- |
| Soft Coffee Drink (Liquid) | Self-Standing Spouted Pouches |
| Raw / Roasted Coffee Beans | Doy pack type stand up pouches / Side Gusseted Coffee Bags / Block bottom coffee pouches / Tin tie Kraft paper bags |
| Roasted Ground Coffee (Powder) | Doy pack type stand up pouches / Side Gusseted Coffee Bags / Block bottom coffee pouches / Lay flat coffee pouches |
Part 3: Coffee Pouch Accessories
With different add-ons, coffee pouches can bring the coffee consumers great convenience, and happiness.
Various accessories will be applied to Ouma coffee pouches, which will make it easier for customers and retailers when opening, packing, resealing the liquid coffee drink, coffee beans, or ground coffee.
It's fully customized to use what kinds of add-ons for your bespoke coffee pouches. Or just reach us, we will offer you the best proposals, based on your market demands.
Part 3.1: One-Way Degassing Valves
This is a very important accessory for Ouma coffee pouch. It's mainly developed for coffee packaging. The venting valve allows carbon dioxide to exit from a coffee pouch. There are a lot of  benefits:
Expand shelf life

Keep product quality, flavor and freshness

Save transportation fee

Reusable and reclosable easily

Built-in design, easy to apply and safe to use

Great perfromance

Extra feature of steam release
There will be about 7 days that the roasted coffee gives away gas like Co2. If you pack up the coffee during this period with a coffee pouch without degassing valve, the pouch may get burst sometimes.
Here are some of the valve types we have ever used:
Part 3.1.1: WIPF Degassing Valves
This is one of the World's Most Reliable Degassing Valve. Most Ouma coffee pouch gost with it.
It takes sophisticated technical solutions to protect food products, espe-cially those that remain active in their packaging.
WICOVALVE® aroma-protec-tion/pressure-relief was originally designed for coffee. During the past years, this valve technology has been refined and modified for many new applications.
Part 3.1.2: Goglio Valves
This is another type of venting valves Ouma coffee pouch has been using.
The one-way degassing valve, originally invented and developed by Goglio, has given an important contribution to the development of flexible packaging. Itis produced using raw materials approved by European authorities, the FDA and the Japanese Ministry of Health.
Part 3.2: Resealable Ziplocks
Resealable coffee pouches are those with a pressure sensitive or slide-seal closure. These coffee packaging are used everywhere. Whether you are manufacturing, processing and storing food, retailing items of any size or serving the healthcare needs of patients in hospitals, medical and dental offices, pharmacies, home health care or pharmaceutical production, you almost certainly have these bags on hand.
Here are one of the best ziplock types we use:
The Multi-Align Easy-to-Close Zipper that Seals Securely & Reliably.
It will set your brand apart on the shelf and in the minds of your consumers with the Vector resealable matrix from Zip-Pak®. Vector™ provides an easy-to-close option allowing consumers to easily reseal it without exact alignment.
Part 3.3: Butterfly Hole (Euro) / Triangle Hole / Round Punch Holes
Hanging the coffee pouch on the shelf is another way of displaying your products on the supermarket, besides standing up on the shelf.
To meet different demands, Ouma coffee pouch offer different options of 3 types of hanging holes: Butterfly (also called Euro) hole / Triangle hole / Round hole. These holes will be done by punching tooling. The sizes of holes are customized as well.
With our options, it brings you great convenience when displaying your products. With more 20 years' experiences, we are sure know how to make it safe and not tearing off when hanging.
Part 3.4: Die-cut handles
Die-cut handles are normally used for coffee pouches with big volume, like spout coffee pouches, dog food bags, pet food bags, merchandise bags. A plastic handle grip will be use for such handles. It will make it easier and convenient for the consumers when they have to take lots of items after shopping.
Part 3.5: Ergonomic handles
Ergonomic handles are designed for coffee pouch,  gift bags, merchandize bags, shopping bags, which are with small loading volume. It's done by punching with a die-cut tooling, and will not add any extra grip. So it's not for big loaded pouches.
Part 3.6: Rounded Corners
The bigger coffeepouch, the thicker materials. The thick materials make the pouch strong and stiff enough, but it goes with sharp corners as well.
To avoid any unexpected injuries, we offer the options of rounded corner coffee bags. This will make it safe for all consumers, no matter adults, aged or children.
The start for the consumer to use or consume your product is Opening the coffee pouch, easily, without any tools. This is one of the most important factors for a succeed brand.
So we will add tear notches to most of flexible packaging pouch, to increase customer convenience.
Part 3.8: Coffee Pouch surface finishing: Glossy / Matt
Coffee Pouch surface finishing is one of the key issues for packaging design. The glossy finishing makes the coffee pouch shining or luminous. Matt surface gives the coffee pouch dull looking.
To have glossy finishing, just make PET as the external layer of pouch lamination structure. For matt finishing, 2 options are available: one is by Matt BOPP film, the other is to put matt vanish on PET. Matt BOPP is the most popular and regular option.
PET and Matt BOPP costs all most the same. It takes more costs with matt vanish, cause the matt vanish will be done by printing plate, which is with the same process as pattern printing.
Part 3.9: Look-through windows
Before opening the coffee pouches, you could not touch or smell the content inside. But the experienced consumer can tell the quality of coffee bean or ground coffee by seeing.
So a look-though clear window is very important. It's not difficult to keep some part of the pouch transparent. You can even customize the shape of the window, round, oval or unique shapes.
With look-through windows, it will help to improve the sale of coffee.
Part 3.10: Tin Tie Closures
Ouma Coffee pouch with ziplocks enable re-opening and reclosing. What if for a flexible pouch without the ziplock? Tin tie closure will take over the function.
It's available for different pouches, including stand up pouches, and side gusset bags, flat bottom pouches, kraft paper SOS bags, etc.
With a tin tie closure, it will make the best use of coffee pouch. And it makes it easier to store the coffee when it is not finish at one usage.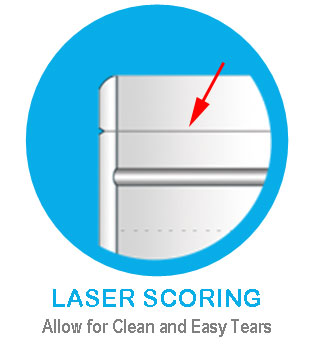 Even with a tear notch, it is not so easy to open the coffee pouch if the laminated material is very thick. A laser scoring line can settle this problem with a tear notch. This will help to improve the User Experience.
But only flaw is that it costs quite a lot to have your own laser scoring machine.
Part 3.12: Dotted Tear Line
Laser scoring is a better option than dotted tear line. Because it's faster and better in performance.
But key problem is that it costs quite a lot to have your own laser scoring machine.
In this case, to go with regular dotted tear line could be a more reasonable choice for your coffee pouch.
Part 3.13: Slider Zippers
For the usage with lower request on airtightness, slider zipper will be applied to coffee pouches and bags, instead of using ziplock.
Slider zipper coffee pouches are mainly used for cloth packaging bags, fruit packaging bags, etc. With a slider zipper on the top of pouches, it's very easy and convenient to open and reseal it.
Part 3.14: Pocket Ziplocks
Pocket ziplock is a special ziplock that has a tear tab on the coffee pouch body. it's very easy to open it with the tear tab. Then the coffee pouch can be resealed with the ziplock.
The pocket ziplock costs more than the regular ziplock. Pocket zip locks for coffee pouches are anti-demolition and make sure the consumer receives coffee beans and coffee powder safe and sound.
Front Pocket zip locks are used for stand-up coffee pouches and flat bottom pouches (box pouches).
Part 3.15: Header for OPP Bags
On the opp bags of stationery or small products, it's necessary to have a header on the top. It can be printed with the branding info, and strong enough to carry and hang on the shelf.
The header size could be customized according to the clients' demands and promotion design. Normally the hole on the BOPP bag header is the type of round. But it's also customized indeed.
Part 3.16: Curved Bottoms
If for a large stand up coffee pouches, or a stand up pouch used for heavy loading, to assure it will stand straight enough, we can add a curved bottom to the pouches. When it is inflated, the curved bottom make it standstill.
But it takes extra cost for it, cause it requires a tooling for cutting the bottom edge. What's more, the lead time for curved bottom pouches will be longer than regular pouches, because it will have to be produced on some special machines.
Part 3.17: Coffee Pouch Bottom Types
There are 3 different bottom gusset type for stand up coffee pouches: Normal bottom / Round Seal Bottom / K-Seal Bottom. The first 2 types are the most common pouch bottom types.
Part 4: Categories of Coffee Pouch
Coffee pouch is a multi-layer laminated packaging. It's used for roasted and ground coffee. It can be packed with different volume,   a single cup serve or bulk sale.
Ouma Coffee Pouch will bring the flavour and aroma you would like to present to your clients. Flexible coffee pouch lower lots of your packaging cost, saving you lots of shipping fee! It makes your products much more competitive in your market.
Coffee pouches will be made from a variety of high barrier materials. Sustainable materials are used more and more for the Ouma coffee pouch. Pls contact us for more details if you are interested in biodegradable pouches or mono PE recyclable pouches.
Part 4.1: Stand up Coffee Pouch
Stand up Coffee pouches are one of the most popular coffee packaging types. It is also called  Doy pack Coffee pouch. They are with a bottom gusset that enables them to stand up on the shelf.
Ouma Stand Up coffee pouch offers you with a convenient self-standing packaging solution. Made with a bottom gusset, giving it self-standing strength, it is ideal for general display needs in the retail market. Handy add-ons like ziplock and degassing valve make it the most effective flexible packaging solutions.
Ouma doy pack coffee pouches are made of high-barrier materials. It brings your products longer shelf life. It lowers the packaging costs, and makes it easy to have the packaging for different volume packaging, or new packaging for each promotion campaign.
Part 4.1.1: Metallic Foil Stand Up Coffee Pouch
Foil stand up Coffee pouches are in fact 2 different types: one is with aluminum foil in the middle. The other is made of metallic plastic film. If you need coffee pouch with features of absolute moisture, oxygen, aroma, odor and contamination barrier, foil stand up pouch coffee pouch is the best choice.
The size of Coffee pouch is full customized. We produce foil stand up coffee pouch with a load capacity of 1 oz. to 5 lb.
There are 3 different types of metallic stand up pouches as follows:
Solid-back Clear-front Doypack
Part 4.1.2: Kraft Paper Stand Up Coffee Pouch
Nowadays, many countries put in to effect the policy of Prohibition to plastics. So kraft packaging bags are increasing in the usage. But kraft paper can not act in all conditions. So, an alternative is to reduce the usage of plastic.
That's why kraft + plastic laminated coffee pouches are getting more and more popular. Kraft Stand Up Coffee Pouches offer a moderate barrier and are ideal for retailing non-refrigerated products. The inner lamination keeps the products fresh. The bottom gusset pouch design enables the product to stand by itself when full!
There are 3 different kinds of kraft papers available for flexible packaging as follows:
Brown (Natural) Kraft Paper Doypack
White Kraft Paper Doypack
Semi-Transparent Kraft Paper Doypack
Part 4.1.3: Frosted & Transparent Stand Up Coffee Pouch
Personalized coffee packaging is important for the promotion of a coffee brand. Frosted stand up coffee pouch are one of the popular flexible coffee packaging.
Frosted coffee pouch, is also called matt coffee pouch, or semi-clear coffee pouch. A transparent coffee pouch is the 100% clear coffee packaging.
Printing design, dimensions are all fully customized on frosted coffee pouch.
Frosted / Matt Coffee Pouch
Part 4.2: Side Gusset Coffee Pouch
A side gusseted coffee pouch goes with the gussets on both sides. The gussets expand when the package is loaded. the product makes the bag stand upright.
There are two long panels, on the front and the back sides for product branding. The side gusset coffee pouch is the most popular type for coffee packaging today. It is also widely used in other markets such as jelly, rice, pet food, powders goods, teas, and other specialty food products.
Side gusset coffee pouches have transformed the packaging way of coffee, making it faster, easier, less expensive. What's more, there are many add-ons to add to the bags, upgrading the function.
Best for branding promotion with 4 large panels for printing

Efficient filling capacity with well opening top ends

Flexibility due to customization of different sizes

Excellent barriers with laminated material films

Part 4.2.1: Foil Side Gusset Coffee Pouch
Foil side gusset coffee pouch goes by 2 types of foil, silver foil, and gold foil. Among them, silver foil side gusset coffee pouches are the more popular ones. In fact, it is made in 2 different ways, one is with aluminum foil, the other is by metallic PET film.
Gold foil is another kind of metallic PET film but in gold. All metallic PET films are done by the process of coating.
Part 4.2.2: Kraft Side Gusset Coffee Pouch
Kraft side gusset pouch is one of the most popular coffee bags packaging ways. It's not simply done by kraft paper, but by multi-layer lamination, for example, Kraft + Metallic PET + PE.
For roasted coffee beans & ground coffee, degassing valves are necessary for the coffee pouch, not only side gusset coffee pouch but also stand up coffee pouches and flat bottom coffee pouches.
Part 4.2.3: Fully Custom Printed Side Gusset Coffee Pouch
Design printing on the packaging is very important for all coffee brands' promotion. The consumers learn everything about your products from the printing details on the coffee pouch.
To become eye-catching, and stand out from the shelf with dozens of coffee from different brands, a unique, special packaging design is the key factor. Of cause, a good manufacturer to bring your design to reality is equally important.
Part 4.2.4: Poly Gusseted Coffee Pouch
Do you want to look for an easy-to-use and cost-reduced packaging solution? poly bags will be one of the best options. The barrier quality of these pouches will be totally the same as other stand up pouches. They are using same materials construction. But it provides a larger load scale and lower product costs.
The pouch dimensions are custom-made. You can have the pouch from 1 oz. to 10 lb. A wide range of colors provides a lot of bag choices. Sticky Labels will be applied easily since the label does not have to cover the seal. The concealed seal on the 5 lb. bags creates extra durability to prevent the bag from bursting. Valve and tin tie can be added on these bags.
Part 4.3: Flat Bottom Pouch Coffee Pouch
Flat bottom coffee pouch, also known as block bottom coffee pouch, coffee box pouch, is the superior type of coffee packaging bag. The production of flat bottom pouches is a little more complicated, compare to that of stand up coffee pouches.
The box coffee pouch is with a flat bottom, and both side gussets. It can expand and stand still even before filling. This block bottom coffee pouch is designed to hold the load of 6oz to 20 lbs, various to different materials we use.
Flat bottom coffee pouches offer more space for printing, compared to stand up pouches. All the add-ons are available for flat bottom coffee bags, like a look-through window, matt finishing, degassing valves, hanging holes and rounded corners, etc.
Part 4.3.1: Foil Flat Bottom Coffee Pouch
Go with the best of both worlds with our new foil flat Bottom pouch with ziplock! Combining the advantages of the traditional side gusseted coffee pouch along with those of a stand-up pouch makes these a great fit for any product! The flat bottom makes it very easy to stand upright on the shelves, no worrying about falling over.
The pouch structure makes them good for adding ads printing. The degassing valve is one of the popular accessories. Matte and glossy options are available to suit various brand-promotion needs.
Part 4.3.2: Kraft Flat Bottom Coffee Pouch
Protecting the environment against pollution now has become the consensus of all countries in the world. Many traditional plastic materials are not totally eco-friendly types. But kraft paper is a recyclable material. So it is a good option to make kraft as the outside layer, reducing the usage of plastics.
With a kraft surface, the coffee pouch could have a thick and strong feeling as well.
Part 4.3.3: Square Bottom Coffee Pouch with e-zip (front ziplock, pocket ziplock)
There are 2 types of ziplock closures for coffee pouches: regular ziplock and e-zip. You have to hold and pull both the back and the front sides of the pouch opening side when opening the pouch with a regular ziplock.
But it will be much easier to open a pouch with e-zip, just catching the tab and pull to the other side. E-zip closure is also called front ziplock, or pocket ziplock. Though it's a little more expensive than regular ziplock, it's more popular for the coffee pouch.
It's possible for customers to view what they are about to buy if with transparent side gussets.  
Part 4.3.3: Box Bottom Coffee Pouch With Tin Tie Closing
There are 4 types of closures for flat bottom coffee pouches: regular ziplock, pocket ziplock, tin tie closing, and heat sealing. You could choose one of the options according to your promotion purposes.
Part 4.4: Unique Shaped Coffee Pouch
Flexible coffee pouches are fully customized, not only with pouch type, pouch size, also the pouch shapes. For example, the coffee pouch could be designed with the shape of an apple, banana, orange, ball, or robot.
Almost all coffee pouch types are available to shaped coffee bags. They are specially designed for some promotion and branding needs.
With unique shapes, your coffee pouch will stand out on the shelf among the competitors. All material used provides high barrier. The ground coffee will normally be packed in small sachets and then bulk pack by bigger pouches.
Part 4.5: 3-Side Seal Coffee Pouch
3-side seal coffee pouch, also called Flat coffee pouch, is the perfect solution for efficient and economical coffee packaging. The simplicity of Ouma flat coffee pouch ensures that minimal effort is required to package and seal these bags, giving customers more time and money to distribute to other channels.
Available in clear poly or metalized materials, these pouches provide great packaging alternatives. Various colors and printed patterns are available to suit the needs of any product.
Part 4.6: Quad Seal Coffee Pouch
Quad seal coffee pouch is close to box coffee pouch packaging style. These coffee pouches have become popular because they look stand upright like a carton or tin box. You can print the HD ads design on all four sides.
Ouma Quad seal pouch will be sealed on all four sides. The side will be kept open so you can load the product and then seal it with a heat-sealing machine.
These coffee pouches are widely used to for coffee, candy, chocolates, dried food, nuts, jerky, protein powder, etc.
Ouma quad sealed coffee pouch is with custom materials composite and bespoke printing. The regular materials include kraft paper, PET, OPP, VM foil, alu, etc.
The degassing valves are recommended if for coffee packaging. Many other add-on features include euro hole, rounded corners, round hole, k seal bottom, tear notches, etc.
Part 4.7: Vacuum Coffee Pouch
Vacuum coffee pouch is manufactured by using multilayer films. Vacuum coffee pouch can be customized by having the following; euro slot, cut-out handles to ensure comfortable handling. The coffee pouches that are made available for vacuum packaging bags include:
Three-side seal coffee pouch

Stand up coffee pouch

Side gusset coffee pouch and more
Vacuum coffee pouch can be fully custom-made with the size range from 50gr to 5kgs.
The process of Vacuum coffee pouch includes removing surplus air within plastic pouch prior to final sealing. By making use of nitrogen, which is a form of inert gas t helps prevent the crushing of delicate foods.
Part 4.8: Spout Coffee Pouch
Ouma Spout Coffee Pouch is a Stand Up Coffee Pouch which is fitted with a dispensing spout and reclosable cap, making an ideal container for a variety of liquid products and are more energy-efficient to produce and transport than traditional rigid bottles.
Ouma provides custom-formed Shaped Coffee Pouches with and without spouts for a wide variety of applications, bringing your packaging concepts to life and allowing your brand to catch the eye of consumers on the shelf.
Compared with rigid packaging, the spout coffee pouch costs you much less on the unit prices. What's more, you could easily change the spout position, pouch shape, dimensions, with very little extra costs.
Spout Coffee Pouch Benefits
Part 4.9: Tin Tie Kraft Paper SOS Bags
Brown Kraft Paper Tin-Tie Flat-bottom Bags, also called SOS bags or kraft gusseted bags, are made of high quality kraft paper and is an environmentally eco-friendly packaging solution. Use these Kraft Brown (clay coat) Paper Tin-Tie SOS Bags as a plastic bag alternative. Kraft paper bags are getting more and more popular all over the world.
Kraft Brown Paper Tin-Tie SOS Bags are of two different types: one-ply construction & two-ply construction. There is only kraft paper for one-ply material structure; it could go with Kraft & PET or Kraft & PE for two-ply construction. An inner layer of PE or PET provides a resistant transfer barrier to keep the contents isolated from outside influences to lock in freshness.
Kraft Brown Paper Tin-Tie Flat-bottom Bags can be used for a variety of products. Our primary listing is for un-roasted and roasted coffee beans. However, anything from cookies, rusks, dried fruit, or nuts can be packaged.
It could go with window bags, which are poly-lined for freshness, and feature a window to showcase the contents. They're ideal for dry foods like coffee beans, loose leaf tea, biscuits, and nuts, and can be sealed with a bar heater. Polylining is 100% BPA-free.
Part 4.10: Kraft Shopping Bags
Natural Brown Kraft Paper bags in a range of sizes, from small sandwich bags to stylish gift bags. Recyclable, compostable, renewable and completely plastic free. Easy to customise with a stamp, or have your brand printed on it.
Easily carry your groceries and loose items using sturdy, handled kraft grocery bags. These grocery bags feature an upright bag design, spacious gusset sides, and flat handles secured to the bag interior for a comfortable carrying experience. Ideal for delis, grocery stores, and retail shopping.
A happy shopping starts with our shopper bags! Foil stamped for added flare. Kraft paper material is made from 100% recycled content. Features natural Kraft or colored interior, a serrated top and twisted Kraft paper handles (Black bags have black handles). Perfect for retail shops, promotional packages and tradeshows. Make it a promotion to remember and customize with your brand name or logo.
Part 5: Coffee Pouch Materials Guide
To keep the freshness of coffee taste, flavor, the coffee pouch requires multi-feature and high barrier materials. It's very important to choose the correct coffee packaging. That's the most important reason to deliver the qualified coffee to the comsumer.
Ouma coffee pouch is a popular promotional packaging. The coffee pouch can be printed branded image. Coffee and tea are usually packaged in coffee pouch packaging. The coffee pouch is shelf-friendly.
Ouma Coffee Pouch is made with the composite the follow layers:
LDPE(Low-density polyethylene): is widely used for manufacturing various containers, dispensing bottles, wash bottles, tubing, plastic parts for computer components, and various molded laboratory equipment. Its most common use is in plastic bags.
HDPE (High-density polyethylene): is known for its high strength-to-density ratio. This plastic is usually milky white or semi-translucent, has superior puncture, low permeability and temperature resistance, and is more rigid and stronger than LDPE / LLDPE but also tears easier and has a propensity to crinkle.
PVDC: Polyvinylidine chloride, the excellent oxygen and moisture barrier properties of PVDC make it a ideal material for packaging converters. But the high cost of PVDC tends to mean that it is mainly used in the form of copolymers.
PET: Polyethylene terephthalate, is a very strong clear glossy film, and possesses a great number of advantages, such as good moisture and gas barrier properties, tensile strength, etc.
BOPP (Biaxially-oriented polypropylene): BOPP films are one of the most popular materials used for flexible packaging.
(Kraft) paper: Kraft is the 100% compostable material. It is used for fast food, takeaway service. But it's also one of the main materials for multi-layer coffee pouches.
Aluminum foil: Aluminum foil has the best barrier properties. It offers a 100% barrier to moisture UV light..
Metalized PET: are polymer films coated with a thin layer of metal, usually aluminium. They offer the glossy metallic appearance of an aluminium foil at a reduced weight and cost.
EVOH (Ethylene Vinyl Alcohol): is produced by a controlled hydrolysis of ethylene vinyl acetate copolymer. It's most important characteristic is the outstanding Oxygen and odor barrier properties. Packaging structures with EVOH provide high retention of flavors, and prevent quality loss associated with reaction of oxygen with the product.
CPP (Cast Polypropylene): offer excellent heat seal strength, good thermal stability, good puncture resistance, good clarity and fair barrier properties. The film type also has good yield economics owing to its low density. Some of the typical application areas for the film includes hot filling and retort applications, high speed application on FFS machines and bakery products.
Ouma coffee pouches & bags can be manufactured by various different multi-ply structures, according to different packaging purposes:
PET / PE

MATT BOPP / PET / PE

PET / ALU / PE

MATT BOPP / METALLIC PET / PE

KRAFT / PET / PE

KRAFT / ALU / PET / PE

BOPP / CPP

PET / NY / PE

Others by requests
The main materials we use for Ouma coffee pouches are certificated by FDA. You could get all our materials certificates by just simply sending us an email.
Part 6: Coffee Pouch Manufacturing Guide
Perfect coffee pouch will bring you both long shelf life span and fruitful marketing of your brand. It also create a wonderful emotional connection between your coffee and the consumers.
Ouma flex pack has been devoting ourselves to help achieve your success in the coffee market. So we take the coffee pouch quality so important as our lives. We focus on each process during coffee pouch production, ensuring the coffee packaging quality.
Part 6.1: Coffee Pouch Production Process
1. Order confirmation:
After having your purchase order, we will contact you and confirm each detail via email and telephone. You are welcome to reach us 7*24 by email or phone call whenever you like.
You will have our sales confirmation within 24 hours, including the size, color, add-ons and lastly the purpose. We will fix each detail of the coffee pouch. All the info you need will be shown on the pouch.
2. Down payment:
We will send you the proforma invoice after you sign and fax back the sales confirmation. You are supposed to arrange the down payment according to the PI. Normally, it will be 30% to 50% of the order amount.
We will launch the coffee pouch production upon the receipt of the down payment bank slip.
3. Raw materials preparation:
Our production department will prepare all the plastic films, and add-ons like valves, ziplock, spouts, etc.
If there is printing on the coffee pouch, the printing cylinders will be arranged at the same time. It takes 7-10 days for the preparation of all raw materials and coffee pouch accessaries.
4. Printing:
All printing processes reproduce lines and/or dots that form an image. Printing is the process of manufacturing multiple copies of graphic images. Although most people think of printing as putting ink on paper, printing is not limited to any particular materials or inks. The embossing process uses no ink at all, and all shapes and sizes of metals, wood, and plastics are common receivers of printed messages.
The following major printing processes are used to reproduce graphic images. Each of these processes is suited for specific applications, such as newspaper, book, packaging bags, or textile printing.
–Relief printing:
The relief printing process includes letterpress printing, flexographic printing, and all other methods of transferring an image from a raised surface.
–Intaglio printing:
Intaglio printing is the reverse of relief printing. An intaglio image is transferred from a sunken surface. It's also known as gravure printing, photogravure printing.
–Screen printing:
Screen printing transfers an image by allowing ink to pass through openings in a stencil that has been applied to a screen mesh.
–Lithography printing:
It's a relatively new process, dating from around 1798. Offset lithographic printing is the most widely used printing process in the commercial printing industry.
5. Composition:
The advent of composites was a revolutionary shift in packaging. Every single material has its own advantages, disadvantages, and characteristics.
For example, metallic materials are brittle and not resistant to corrosion, but have excellent barrier properties; LDPE is chemically resistant, easy to heat seal, and easy to process, but its strength and oxygen barrier properties are poor.
Composite can make up for the shortcomings so that a variety of single-performance materials are combined into a new material with comprehensive performance.
The soul of composite flexible packaging lies in the composite, which is the superposition of performance. This is also the technical core of the production of composite flexible packaging.
6. Curing:
After the coffee bag roll films are composited, it could not go for slicing right away. Because it takes 72 hours of curing before it's available for next process. It's important to make sure it's a fully curing, otherwise the composite layers may peel off.
7. Slicing:
The roll-form raw material will be cut by slicing machines to exactly the width needed for a pouch. There will be always big quantity of film rolls, the slicing machine will cut with an accuracy of 0.1mm, and keep the roll in perfect conditions.
A perfect slicing will help to speed up the converting process. Otherwise, it will slow the production speed, and waste the coffee bag raw materials, bringing lots of lots and time and costs.
8. Converting:
Most of the converting job is done by machines. After loading the coffee bag film roll onto the converting machine, it will go through the first part of the machine, folding according to the pouch type, sealing the bottom and both edges, punching holes, adding ziplock, etc.
9. QC (Quality Control):
Product quality is the basis for the long-term development of enterprises. In order to ensure that all goods meet quality standards, we have established a perfect quality control system:
A. IQC: In-Line QC, there will be 3 production engineers keep checking each section on the production line during the whole production. In fact, the machines have auto monitoring functions, but we still arrange QC checking for 100% assurance.
B. FQC: Final QC: at the end of the production line, there is 1 QC checking each bag, and pick out the disqualified one.
C. OQC: Outgoing QC: before packing to export cartons, we arrange outgoing QC to do another 100% quality checking and pick out disqualified items in the case.
10. Packaging:
After the packaging pouches & bags are through the full QC process, they will be packed by bundles, putting into transparent poly bags. Pouches in bundles will be packed into corrugated cardboard cartons.
The packing quantity of each carton could be indicated by clients, according to different sales methods and purposes. In this way, the pouches will be packed by customized cartons specially for this order, instead of standard size. There will be extra cost for custom cartons.
There could be custom printing on cartons and labels as well. This will also cost a small amount from the client, but it will bring great help to the promotion and storage.
Part 7: Coffee Pouch Product Testing
Besides the quality control during the whole coffee pouch manufacturing, we will carry on a lot of testing from the arrival of raw materials until the delivery of the coffee pouches. In this way, we can assure that all the coffee pouch we deliver are all qualified, and strictly produced according to the purchase orders.
Part 7.1: Testing of raw materials for coffee pouch
1.Quality testing of plastic films
Plastic films are one of the most important raw materials for the flexible packaging production. So we take this material testing very seriously. It mainly covers the testing as follows:
Quality control of film appearance

Quality control of film width and thickness

Quality testing of film tensile properties

Quality control of film surface tension

Quality testing of the coefficient of film friction

Film heat sealability testing

Testing of thickness and adhesion of aluminium coated layer

Detection of the thermal shrinkage of plastic films

Testing the puncture resistance of plastic films

Testing of plastic film transparency and haze
2.Quality testing of flexible packaging paper
The testing to the paper used for packaging pouches and bags include the follows:
Testing of paper thickness

Quantitative paper testing

Detection of paper moisture content

Paper smoothness test

Testing the tear resistance of paper

Testing the tensile strength of paper

Testing of paper breakage resistance
3.Quality testing of Aluminium foil for flexible packaging
Aluminum foil and aluminum coated foil are both very important high barrier raw materials for flexible packaging, especially food pouches and coffee bags. So the testing is very important and strict.
Appearance inspection of aluminum foil

Testing of aluminum foil width and thickness

Surface cleaniness test of aluminum foil

Pinhole detection of aluminum foil
4. Quality testing of other coffee pouch raw materials
Printing ink for flexible packaging

Flexible Packaging Laminated Adhesives

Ziplock and slider closure for coffee pouch
Part 7.2: Testing of manufacturing processes for coffee pouch
It's mainly about the testing of coffee pouch gravure printing and coffee pouch composition. Print quality can have a huge impact on a customer's brand image. Flexible packaging lamination can have a significant impact on the user experience.
The testing of printing quality includes the testing of appearance, overprint error, fastness between plastic films and ink, printing color difference, ink glossiness, etc. The testing of composition covers the testing of adhesive spread, glue viscosity control, etc.
Part 7.3: Testing of coffee pouch quality
Testing of coffee pouch and bag is one of the most important part of Quality Control (QC). The testing covers a wide range of subdivisions. Barrier testing of coffee pouch raw materials: gas permeability & moisture penetrability testing.
Testing of flexible packaging raw materials physical property:
Tensile property

Strength of composite

Strength of sealing

Tightness

Pressure resistance

Drop performance
Physicochemical and hygienic properties testing:
Residual solvent

Odor detection
Part 8: Coffee Pouch Storage and Transportation
After the coffee pouch production is done, we will proceed with the delivery and shipping arrangement. During the period, the coffee pouch will be stored in our warehouse for a couple of days.
All warehouses are in our plants, so all the cargos will be safe and sound before delivery. In most cases, it takes only 15-25 days to deliver your orders.
We work with professional forwarders for logistics and shipments. They will take care of everything about shipment and send the cargos all over the world according to schedules. We sell and deliver our goods to more than 40 countries in Asia, Europe, North America, South Africa, and Oceania.
We won't bother the clients about the shipping and transportation by offering considerate service, including the customs clearance and transit on destination ports. The clients will save a lot of time and trouble from the jobs, just waiting for the cargos at their location.
| Loading Ports | Destination | Port of Discharge |
| --- | --- | --- |
| Shenzhen / Guangzhou / HK | USA | Los Angeles / Oakland / New York / Chicago |
| Shenzhen / Guangzhou / HK | Australia | Melbourne / Sydney |
| Shenzhen / Guangzhou / HK | Netherlands | AMSTERDAM / Rotterdam |
| Shenzhen / Guangzhou / HK | Canada | Vancouver / Toronto |
| Shenzhen / Guangzhou / HK | South Africa | Cape Town / Durban |
| Shenzhen / Guangzhou / HK | Europe | Antwerp / BREMEN / HAMBURG / FELIXSTOWE / Barcelona |
Chapter 9: Coffee Pouch Frequently Asked Questions (FAQ)
1. What types of material do you offer for Coffee pouch?
The clients can indicate the material structure for their unique products. We will make professional suggestions according to our experiences as well. There are a variety of composite films that we use in the manufacturing of Coffee pouches. Mainly among MOPP / PET / AL / PE / CPP.
2. What types of add-ons do you fit on Coffee Pouch?
There are a lot of options, including a clear window, tear notches, degassing valves (vents), euro punch holes, re-closable zipper, ergonomic handles, round corners, etc.
3. Do you offer custom printing service? What custom printing do you use?
The clients could customize the branding printing with up to 8 colors. We offer HD graphic printing for proper branding, labeling, and logo setting, using the latest printing technologies of gravure, flexo, and digital printing.
4. What is the minimum quantity of coffee pouch on each order?
All printing processes reproduce lines and / or dots that form an image. Printing is the process of manufacturing multiple copies of graphic images. Although most people think of printing as putting ink on paper, printing is not limited to any particular materials or inks. The embossing process uses no ink at all, and all shapes and sizes of metals, wood and plastics are common receives of printed messages.
5. Is a free Coffee pouch sample available?
We will be happy to send you the existing coffee pouch samples for quality reference, free of charge. Just drop a line with your delivery details.
6. Is a pre-order coffee pouch sample available?
The sampling process will be totally the same as the mass production, taking lots of time, labour and materials. We will offer the pre-order sampling service with a reasonable sampling charge. You are supposed to have more details by contacting us with full details of the request.
7. What kind of information do you need to have when placing an order?
We need full details of the order request, including pouch dimensions and quantity, material structure and specification, add-ons, design artworks if with printing, delivery, and shipping instruction, etc.
8. How long will the cargo be ready after placing an order?
We will deliver your coffee pouches within 15-25 days, varying on different specification and quantity.
9. Are your pouches eco-friendly?
Yes! All Ouma coffee pouches are eco-friendly. We also use recyclable materials and biodegradable materials according to order request.
10. Is there still a MOQ for a custom size bag without printing?
Yes. We will take that as a custom size project. We offer label printing services as well.
11. What is the shortest lead-time for coffee pouch with prints?
About 10-20 days for production, varying in peak seasons. we can arrange air shipping and express delivery if you need.
12. How do I confirm Coffee Pouch quality before you ship them to me?
There are 2 options: by external inspectors; or to send you the order samples for review. You can send 3rd party inspection before delivery, if any quality defective, we would guarantee a 100% replacement.
13. What kind of terms of payment do you accept for security?
We prefer wire transfer by T/T. We also accept Western and Paypal. For further clarification or inquiry, kindly contact us.
14. Do you sell Coffee Pouch to distributors?
Yes, We have been dealing with several coffees and Coffee Pouch distributors across North America and Europe, etc.
15. What kind of shipment terms do you prefer?
We accept CIF, C&F, FOB, EXW, DDU, etc. Contact us for more details.
16.Why does a coffee pouch need degassing vents?
Carbon dioxide will be pushed out after the coffee beans are roasted. The pouch will be bursted if there was no exit for the carbon dioxide in the pouch.  Venting valves are the only solution. That's why most coffee pouch go with degassing valves.
17. How does a venting valve work on your coffee pouch?
The valve will be applied to the coffee pouch by heat welding. The process could be done by hand or by machine. All the valves are one way degassing vents. That means the Carbon dioxide inside the coffee pouch can go outside through the valve, but the air could not go inside.
18. What is the max dimensions of a coffee pouch?
For stand up coffee pouches and side gusset coffee pouch, the max bag height is within 85cm. For flat bottom coffee pouches, or box pouches, the max dimension is 46cm width 70cm height 15cm for gusset depth.
19. What's the best packaging for a single serving coffee?
For a single serve coffee, we would suggest to use the film rollstock. The roll stock will work on VFFS or HFFS auto packaging machines. It could be packed as a very small sachet bag, with a couple of gram.
20. Could you produce a biodegradable coffee pouch (also called a compostable coffee pouch)?
Yes. Biodegradable coffee pouches are now the most popular packaging type. Not only for coffee, but also for many other food. It's normally made of kraft, PLA or PBS.
21. What is the purpose of adding a plastic ziplock to your coffee pouch?
The coffee could be used for couples of brews. The ziplock could help you to seal up the pouch and keep the freshness, extending the life span.
22. Why is the coffee pouch made with laminated films?
The coffee pouch performs in several roles, adding promotion printing, offering high barrier feature, heat sealing. Each layer of film act in single function. So it needs a multi layer composite material.
23. How to open a sealed coffee pouch?
Firstly, tear off the heat-sealing part at the top via the tearing notches; then pull the both sides of opening left and right.
24. What kinds of packaging companies are qualified to produce coffee pouch?
The flexible packaging companies / factories with CE, BRC and FDA certificates are qualified for making coffee pouches.
25. How does the degassing valve prevent oxidation in on a coffee pouch?
The degassing valve goes with a special feature, one-way degassing. It can repel all the air, especially Carbon dioxide. But the one-way mechanism will prevent all air outside.
26. What details Should be marked on a coffee pouch?
The info and data may include: company name, address and logo, promotion details, product composition, product life span, origin location, producing date, roasted date, expire date, website, contact telephone and email, etc.
27. What is the features of a quad seal coffee pouch?
It's a type of stand-up coffee pouches, similar to a side gusset coffee pouch, but with all sides welding. It could go with a tin tie closure, and one way degassing valve.
28. How is the storage life (quality guarantee period) of the coffee inside a coffee pouch?
For ground coffee, it could last for about half a year after the packaging date. For roasted coffee beans, the life span is about 7 to 9 months. But it mainly depends on the types of coffee and packaging. After the coffee pouch is open, even with a ziplock, the lifespan will reduce about 20%-40%.
29. What if a coffee pouch is stored in a freezer?
The life span will increase a lot. Ground coffee will last at least one year if the bag is not open yet. It could be about 2-3 years for roasted coffee beans if to seal in a coffee pouch and to put into a freezer.
30. What's the difference in packaging standards between whole bean coffee and ground coffee?
Not much difference. One of the main issues is: the whole bean coffee will be packed in a coffee pouch with a non-filter valve; the valve of ground coffee pouch is with a filter.
31. What happens if there is oxygen in a coffee pouch?
It will cause the oxidation of the coffee. That means the coffee is damaged and out of use.
32. What happens if sunshine goes through a coffee pouch?
In the sunlight, some microorganisms reproduce rapidly. The microorganisms will spoil the coffee.
33. Is a coffee pouch the same as a retort pouch?
No, the materials are different. So do not reheat the coffee with the coffee pouch.
34. What happens if part of a coffee pouch is transparent?
The sunlight will go through into the coffee pouch, and spoil the coffee. Oxygen and vapour will also go into the bag, shortening the lifespan of coffee.
35. Does kraft paper help in the coffee pouch lamination?
Yes, kraft is one of the main layer among the coffee bag lamination. The features of hard and tough will make the coffee pouch stand up straight.
36. What is the best coffee packaging for liquid coffee?
Spouted stand-up coffee pouches will be the best solution for liquid coffee.
37. Is ziplock one of the coffee pouch openings?
Yes, one of the main and most popular coffee pouch openings. But it's not a must. The coffee pouch could go without ziplocks.
38. Is a coffee pouch reusable after opening?
If the coffee pouch is with a ziplock, pocket ziplock, or tin tie closing, it's resealable and reusable.
39. Is a coffee pouch compostable?
If to use the PLA, or PBS, and kraft, the coffee pouch is totally home compostable.
40. Which coffee packaging is cheaper, a coffee pouch or a traditional coffee tin?
The coffee pouch is the cheapest solution. Not only to save the packaging cost, but also save shipping cost, because it will save a lot of space.
41. Is it workable to reuse a coffee pouch if the original content runs out?
Yes, it's reusable for at least one year.
42. If a coffee pouch can bear the weight that may be beyond its' load capacity?
If the coffee pouch materials are thick enough, it can do that.
43. How to decide the bottom gusset of the coffee pouch?
The min bottom gusset is no less than 5cm, and ranges from 5cm to 15cm normally.
44. Can we use the same kind of coffee pouch for both roasted coffee beans and grind coffee?
We can use the same coffee pouch for both, but the valve should be with a filter if for grind coffee.
45. What is a coffee pouch valve?
It is a degassing vent that releases carbon dioxide (CO2), and prevents other external gases from coming into the pouch.
46. How to add printing to coffee pouch?
The image printing will be done on the middle layer if it's a 3-layer lamination. In this way, the ink will not contact the food or the consumers, and it will not be easy to peel off.
47. How to pack coffee with a coffee pouch?
It could be done by hand if a small amount of coffee. Packing machines will be needed for a large lot of coffee.
48. Can you provide a coffee pouch mockup?
Yes, we could work out the coffee pouch mockups with your image artwork. If the order is confirmed, it's free of charge. Otherwise, it will costs more than 100 USD.
49. How to apply labels to coffee pouch?
It could be done by labeling machines, or by labors.
50. Do you have any pouches in stock?
We are a flexible coffee pouches converter and manufacturer. We only work by orders.
51. If the artwork modification is allowed before launching the production?
Sure, It's allowed. You may achieve the modification with your own designer. Or we could help as well cause we have a complete in-house artwork and graphics designing department. But if it's to be modified after the printing cylinders are ready and the production starts, there will be some extra costs.
Part 10: Coffee Pouch Packing, Filling, and Sealing
Coffee freshness and shelf lifespan will be influenced by the process of packing, filling and sealing. Premium coffee pouch, experienced staff, and suitable equipments are all the important issues during the packaging.
10.1: Packing and Filling
Two types of auto fill and seal machines are popular and widely used nowadays: the horizontal form fill and seal machine (HFFS), and the vertical form fill (VFFS) and seal machine. Their main difference is how the products will be loaded and packed. There are some differences that make the machines different.
*Horizontal form fill and seal machine (HFFS):
Horizontal form-fill- seal (HFFS) machine brings you flexibility combined with rapid change-overs for your production needs, whether your requirements are side sealed pouches or stand-up pouches with or without a zipper, dry products or liquids.
It provides easy operator access and servo-assisted recipe-driven changeovers with a performance of up to 100 cycles per minute. Standard features include full servo control with HMI interface, operator side loading of film and zipper, up to four standard fill locations, top seal pre-heat, heat, cooling, and servo pick-off with empty pouch reject.
*Vertical form fill and seal machine (VFFS):
Vertical Form Fill and Seal machines provide the speed and accuracy required to vertically fill and seal bags with a variety of products to help our customers meet their packaging demands.
Normally it provides a complete vertical filling solution. It has a variety of bag styles including gusset bags, pillow bags, doy-style stand-up bags, flat bottom bags as well as a variety of hole punches and tear notches.
10.2: Coffee pouch sealing ways
There are 3 kinds of coffee pouches sealing when packing the coffee bean or ground coffee:
*Hot sealing:
This is a sealing based on electric resistance. It's with easy engineering, simple maintenance.
*Ultra Sonic sealing:
It's based on ultra-sound frequency. This sealing will make hermetic seals, regardless of seal area contamination.
*Induction Seal sealing:
This sealing is based on electromagnetic resistance. It seals and cools at the same step, enabling packaging for a circular economy.
Part 11: OUMA Coffee Pouch
Ouma flex pack has been in the industry for more than 20 years. We are one of the most professional manufacturers and coffee pouch converters in China. Ouma cover a wide range of packaging: stand up coffee pouch, side gusset bags, flat pouch, spouted pouches, vacuum pouches, retort pouches, etc.
Our coffee pouches are fully customized, ranging from 2 oz to 25 lb. Our innovative coffee pouch packaging help you succeed in your local markets. We have set up 3 fully-owned plants, taking control of most processes to produce coffee pouches. We have built up a triple-100% inspection working system, assuring that only qualified bags and pouches will be delivered.
With us, your business is safe! Your money is safe!
We offer the lowest MOQ request among China vendors, helping to lower the risks and costs when the client wants to start a new project and make a trial shoot.
We are always there when you need any helps from us, 7*24. You can reach us easily, with email, cell phone, telephone call, WhatsApp, Wechat, etc.
Coffee packaging only costs you serval percent of the final products. But it's the first thing the consumers see, touch and feel. It could bring big influence on their decision of purchasing.
With premium, strong, eye-catching packaging, it will upgrade your products, standing out from other competitors. We could not bring you success, but we could help you achieve larger success. That's why and how a reliable and qualified partner should do for you.