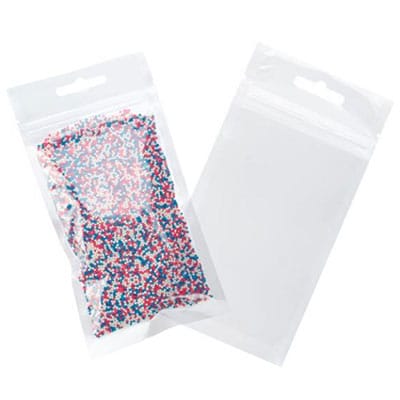 Reclosable Ziplock Pouches Supplier
These low density, heavy duty polyethylene freezer seal top bags will meet all of your needs! With the ability to hold a large volume of product, these thick bags will seal in freshness while also protecting against freezer burn.
Use them to store bulk food items like fruits and vegetables, or to portion out your customers' favorite dishes. The seal top keeps the air out and preserves your food items until they are ready to be served.
Key Benefits of Reclosable Ziplock Pouches
BPA Free: This item is free of the chemical Bisphenol A (BPA) and is safe for food contact.

Freezer Safe: This item can withstand low-temperature applications and is safe for freezer storage.

Great for repackaging or portioning food items

Environmentally

Recyclable, biodegradable
Flexible Pouches & Bags Applications
Ouma Flexible Packaging has the technology and expertise to manufacture customized pouches for a wide array of products. 
Condiments
Dressings
Marinades
Spreads
Jams
Peanut butter
Honey
Sauces
Syrups
Butter & shortening
Cooking oils
Vinegar
Baby food
Fruit Purees
Yogurt
Water
Juices
Sports drinks
Energy drinks
Dairy drinks
Alcoholic beverages
Protein shakes
Coffee drinks
Sugars & sweeteners
Spices & Seasonings
Nuts, seeds, & Grains
Trail mix
Confectionary & candy
Pet food
Powdered drink mixes
Lotions
Conditioners
Shampoos
Gels
Creams
Ointments
Oil
Lubricants
Laundry detergent
Cleaners
Stain removers
Insect repellents
Bath crystals
Dish soap
Hand soap
Contact Ouma Now to discuss in detail your specific packaging needs
Click following button or reach us anytime at [email protected]