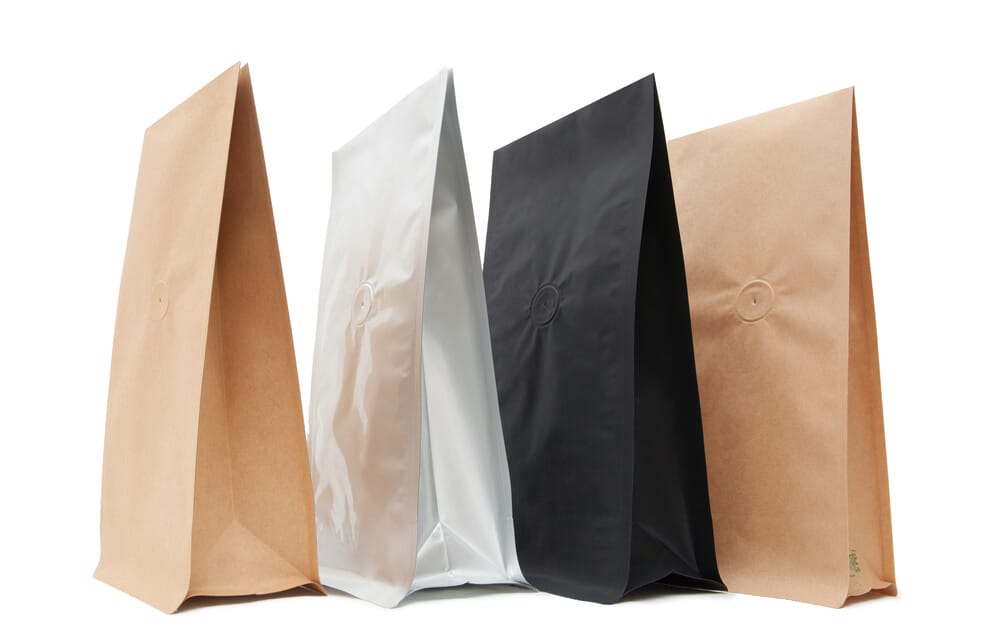 Regular Size Chart for Flat Bottom Box Pouches
| Volume (MT) | Volume (EN) | Width (mm) | Width (inch) | Length (mm) | Length (inch) | Gusset (mm) | Gusset (inch) |
| --- | --- | --- | --- | --- | --- | --- | --- |
| 100 gs | 4 oz | 90 | 3 5/9 | 185 | 7 7/25 | 55 | 2 1/6 |
| 250 gs | 8 oz | 95 | 3 5/7 | 238 | 9 | 70 | 2 5/7 |
| 340 gs | 12 oz | 127 | 5 | 200 | 8 | 80 | 3 1/8 |
| 500 gs | 16 oz | 112 | 4 3/8 | 280 | 10 7/8 | 80 | 3 1/8 |
| 1000 gs | 2.2 lbs | 146 | 5 3/4 | 343 | 13 1/2 | 102 | 4 |
| 1180 gs | 2.6 lbs | 150 | 5 3/4 | 330 | 13 | 118 | 4 5/8 |
Remarks: Pouch sizes are fully customized. It's not fixed, you can decide the pouch dimensions according to your products!
Frequently Asked Questions
Q1: Is Ouma a trader or a real manufacturer flexible packaging products? 
A1: Ouma has been a flexible packaging bags & pouches converter for more than 20 years. We are a trusted flexible packaging expert. 
Q2: What's the MOQ of flexible bags & pouches / flexible rolls to purchase?
A2: For bags & pouches, the MOQ for each size in each design is 10,000pcs; for flexible film rolls, the MOQ for each size in each design is 100kgs.
Q3: What's the payment methods available & terms of payment?
A3: The available payment methods is: T/T, Paypal, Western Union, L/C; Terms of payment: 30% deposit upon order, balance before cargo delivery.
Q4: Do you offer samples for quality checking?
A4: Ouma offers existing samples free of charge for quality checking. If you would like to have samples 100% same as your order, there will be sampling charges.
Q5: What is mass order production lead time?
A5: For orders of LCL, the regular lead time is within 14 days; for FCL orders, the regular lead time is within 21 days.
Q6: What is trade terms for mass orders?
A6: Ouma regularly deal with trade terms of EX WORKS, FOB, C&F, CIF.
Flexible Pouches & Bags Applications
Ouma Flexible Packaging has the technology and expertise to manufacture customized pouches for a wide array of products. 
Condiments
Dressings
Marinades
Spreads
Jams
Peanut butter
Honey
Sauces
Syrups
Butter & shortening
Cooking oils
Vinegar
Baby food
Fruit Purees
Yogurt
Water
Juices
Sports drinks
Energy drinks
Dairy drinks
Alcoholic beverages
Protein shakes
Coffee drinks
Sugars & sweeteners
Spices & Seasonings
Nuts, seeds, & Grains
Trail mix
Confectionary & candy
Pet food
Powdered drink mixes
Lotions
Conditioners
Shampoos
Gels
Creams
Ointments
Oil
Lubricants
Laundry detergent
Cleaners
Stain removers
Insect repellents
Bath crystals
Dish soap
Hand soap